Article
Improved Landside Access — Three Recommendations for All Sizes of Airports to Improve the Passenger Experience
By Seth Zubatkin, P.E., and Darryl Phillips, P.E., PTOE 
Much thought is put into landside access when construction projects alter the usual flow of vehicles in and around an airport. Nobody wants a delay while trying to get to their flight, and keeping travelers on time during construction activities is critical. The same is true for daily airport operations. Airports that provide an efficient, easy trip from home to terminal not only enhance convenience but contribute to overall airport efficiency and passenger satisfaction. 
Based on experience working with airports of all sizes, here are three recommendations to improve landside access at your airport for better traffic flow, safety, and passenger experience: 
Simplify the decisions people need to make 
Recognize the passenger journey 
Embrace who you are 
Simplify the Decisions People Need to Make 
Travel is stressful. Simplify the decisions people need to make as much as you can. The landside portion is an important leg of the journey whether travelers are arriving at the airport or leaving. The fewer points of stress in the passenger journey the happier everyone will be.  
Owners should consider simplicity in their network. When embarking on airport improvements, evaluate the impact of improvements on the overall complexity that travelers must navigate. Traffic models calculate traffic operations for the public as a whole. However, they don't look at the required movements of individual vehicles. For example, the roadway may operate well, but an individual's journey may require difficult maneuvers such as weaving across multiple lanes to get to their desired location. An example of this type of consideration is included in our colleague Tony Wang's innovative work in landside traffic modeling to help analyze movements to determine  the traffic flow that works for everyone.  
Traffic flow design should not be based on modeling data alone; human factors should also be considered.  For example, evaluate how different users may perceive traffic instructions. Consider someone who rarely travels as you design signage and wayfinding. What makes sense to professionals on a plan may bewilder a traveler who doesn't fly frequently. Simple terms such as "Arrivals" and "Departures" can confuse travelers and be better phrased as "Ticketing" and "Baggage Claim." Many airports use cell phone lots but find that the term is not universally understood; in response at New York's John F. Kennedy International Airport a sign was added that says, "Picking up Passengers? Wait in FREE Cell Phone Lot" to clarify the purpose.  
New York's LaGuardia Airport is improving airport traffic flow by using variable messaging signs to help arriving drivers easily navigate to their destination. LGA is known for the effectiveness of its signage, which lists the many airlines served and directs passengers to terminals and parking with legible, color-coded signs. Adding variable messaging technology gives operators a way to communicate traffic flow changes or hazards that travelers approaching the airport need to heed as they happen.  
At Pittsburgh's new terminal, expected to open in 2025, parking will be identified using color-coded pictograms on the roadway signs with clear descriptions that will identify whether passengers walk to the terminal or take a shuttle bus. The same color-coded logos will also be used on the airport website when passengers make their parking reservations so that passengers will already be familiar with the color of their garage or lot when they arrive at the airport.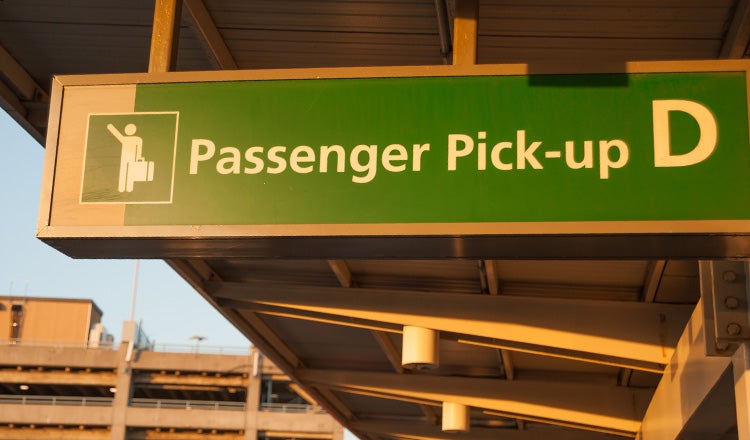 Recognize the Passenger Journey 
Travelers make a series of decisions as their journey begins: Should they drive or take a taxi? How early should they leave home in order to arrive at their gate on time? Airports operate best when passenger perspectives have been considered and use context-sensitive design to reduce passenger stress.  
A recent example that has changed the traffic mix is the increasing use of Lyft, Uber and other Transportation Network Companies by airport users. TNCs create more turbulence in the network due to their on-demand business model compared to a typical taxi, which goes into a  taxi hold line waiting for its next passenger. In response, many airports have adapted their frontage curb to serve a different pattern of passenger pick-up and drop-off. A solution at LGA was to redesign the second level of the main parking garage to provide a dedicated TNC pick-up and drop-off point. Incorporating TNCs into traffic operations planning upfront lowers their impact on the overall traffic picture and helps them serve airport customers and perform efficiently and safely while on airport property.  
Most terminals have a constant stream of vehicles, often double- or triple-parked. Thinking through the process of passenger pick up and drop off has led to improved frontage facilities such as adding angle parking and refurbishing Americans with Disabilities Act-compliant curbs. Many airports are also implementing a dedicated ground transportation center that is designed to be flexible, allowing airports to rededicate space to different modes as the mix of buses, private cars and TNC use shifts over time. 
Embrace Who You Are 
Every airport is different and it's important to retain a clear sense of identity based on local preferences and expectations.  
For example, travelers in Pittsburgh are often picked up and dropped off by loved ones, who want to be able to pull directly up to the curb, within steps of the terminal. When designing and building the airport's new terminal, it was important to maintain that close access while incorporating space for new transportation options. It was important that all passengers have a similar experience regardless of their mode of transportation to and from the airport and so a new three-level curb will provide separate levels for departures, for arrivals and for ground transportation, where TNCs, shuttles and public transportation will operate.  
In contrast to Pittsburgh the major airports in New York City rely much more heavily on public transportation, TNCs, and other ground transportation. They also have complex roadway networks that require sophisticated planning and traffic analysis. Lessons learned from recent and ongoing major terminal redevelopments are being coupled with the latest simulation techniques to maximize traffic operations for the traveling public. One example of this is the New York traffic signal operations project. This project provides the operation center staff data and information that operators can use to determine how to mitigate traffic congestion and incidents as they happen.  
Enhancing landside access for travelers through effective traffic management is vital to alleviate congestion, reduce traveler stress, and improve the overall airport experience. As airports continue to evolve and grow, addressing these access challenges becomes increasingly important.  For more information and to collaborate on innovative solutions, contact our aviation experts dedicated to providing seamless journeys for all travelers. 
---
Darryl Phillips is a senior traffic project manager in our Pittsburgh office whose background includes 10 years as a municipal traffic engineer and early education included architecture; he recently worked on the new Pittsburgh terminal and has led our traffic work at Columbus International Airport.
Seth Zubatkin is a traffic engineer in our New York City office whose recent work has supported the Port Authority of New York and New Jersey as an extension of staff analyzing and designing improvements across NYC airports.