PANYNJ Traffic Signal Operations Oversight and Management
PANYNJ Traffic Signal Operations Oversight and Management
Data-Driven Approach to Managing Traffic Signals Improves Flow at Major New York Metro Airports and Ports
Driving through busy transportation hubs such as airports in New York and New Jersey can be difficult and frustrating, particularly at peak traffic times. Recognizing this, the Port Authority of New York and New Jersey has worked to reduce travel time and add capacity. Improving the efficiency of traffic signal operations can help achieve these goals as well as reduce emissions, without needing costly and disruptive road-widening projects. The PANYNJ selected HDR to provide traffic signal operations oversight and support services for its Traffic Engineering Operations department for the following facilities: LaGuardia Airport, Holland Tunnel, Port Newark-Elizabeth Marine Terminal, John F. Kennedy Airport, New York Stewart Airport, Newark Airport and World Trade Center facilities.
We provided a data-driven approach to manage traffic signals at these facilities, overseeing the introduction of automated signal performance measures and developing big data dashboards to provide better real-time data for traffic engineers.
A Better Signal Monitoring Process
The traditional method of signal optimization is resource-heavy, requiring many hours of field visits or video camera monitoring. With limited resources, this process is not possible to repeat on a monthly or even yearly basis. As a result, signal timings are often developed based on the average conditions observed for one week and applied for 365 days per year. They are also often not revisited for three to five years unless there are significant customer complaints. By harnessing available data, we developed a better way to track conditions and highlight areas that need attention.
With the help of probe data from big data providers, aggregated travel time and speed data for each roadway segment is now being supplied in near real-time to the PANYNJ. As part of this effort, our team developed a web-based software package that extracts, transforms, warehouses and analyzes the data to make it useful to the PANYNJ via a web-based dashboard, automated reports, email alerts and more.
Big Data Dashboards
To help traffic staff understand overall traffic flow, probe data is summarized and presented in a signal health report that allows the Port Authority to understand the peaking characteristics of all corridors each day of the year. Traffic engineering staff can also monitor the traffic speeds and health of each signal and corridor, automatically flagging any issues that need investigation. This proactively manages signals to determine corridors that could benefit from additional signal optimizations and address roadway needs with minimal resources.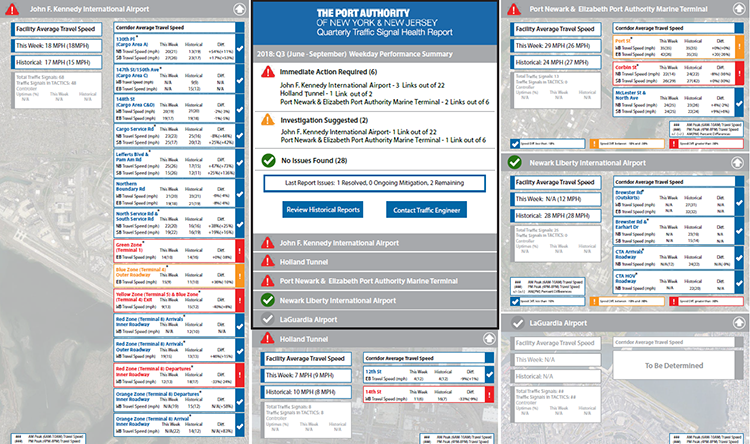 Roadways that need additional attention are continuously monitored by the Time of Day Vitality Report that the PANYNJ is piloting at all facilities. This big data traffic signals dashboard, providing actionable intelligence, is the first of its kind in the New York metropolitan area. The automated algorithm compares the current time of day plans against the observed peaking characteristics of the roadway and determines signals that have mismatches.  It then provides action items for engineering staff on how best to program and optimize traffic signals.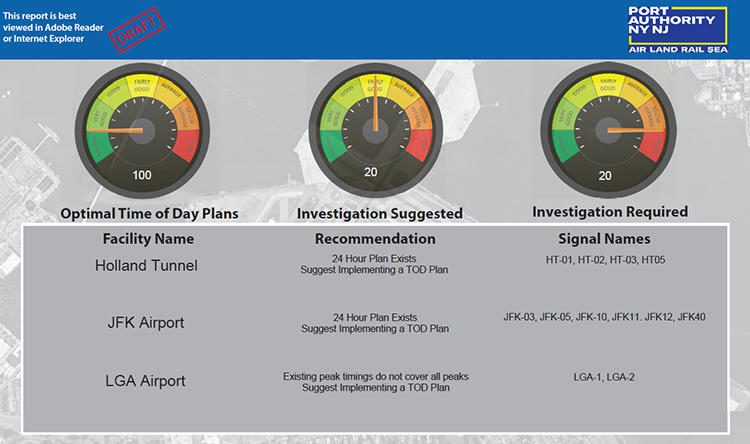 Automated Traffic Signal Performance Measures at the Airport and Ports
Beyond dashboards fed by third-party data, HDR has also helped the PANYNJ pilot "off the shelf" automated traffic signal performance measures software systems. These systems were piloted at both JFK Airport and Port of Elizabeth which used data analytics to manage traffic signals systems that ingests real-time traffic information collected by sensors, cameras and traffic signal controllers. After the data is processed, signal timing parameters are developed to best serve the current conditions. The new timing plans or adjustments are sent back to the traffic management center, where our team members and the PANYNJ staff implemented new optimizations within a 24-hour period. This innovation eliminates what can be a long delay between data collection and signal timing changes, and allows for iterative changes by looking at how the changes benefit the roadway and quickly identify any unintended consequences.  
Big Data Leads to Big Outcomes
Harnessing big data allowed the PANYNJ to maximize staff resources and reduce overall operating costs while improving traffic flow for users at some of the most critical infrastructure facilities in North America. In the first phase of the rollout for automated traffic signal performance measures, for example, the PANYNJ saw an improvement of up to 25% in observed travel time through corridors that used the technology. These innovative approaches improved signal progression and added capacity to the existing roadway without the expense and impact of widening corridors, all while reducing emissions for the entire region.