Article
Inside North American Hatcheries: A Two-Century Legacy
Challenges and Solutions, Then and Now
Would you believe me if I told you that we eat over a million blue whales annually across the globe? Well, figuratively speaking, that is. The global consumption of fish and shellfish is a staggering 156 million tons per year, or the equivalent of one million blue whales. In North America alone, the average individual consumes between 18 and 19 pounds of fish and shellfish each year, for a total of 3.5 million tons. Worldwide, fish consumption represents 25% of protein intake, and that number jumps to over 50% of protein intake in developing countries. Holy mackerel, fish is an important part of our diets!
Not only do we consume fish and shellfish regularly, but we also spend a staggering amount of money in pursuit of them. According to The National Survey of Fishing, Hunting, and Wildlife-Associated Recreation, Americans spend over $46.1 billion annually on fishing-related expenditures. More than 35.8 million people over 16 years old fish annually; that's more than the number of people living in the entire state of Texas. While fishing is an economic catalyst — driving sales of gas, gear and hotel expenditures — it goes beyond that. Fishing-related activities represent time on the water, relaxing with friends or family, and are considered healthy to participate in. Fishing is a big deal — bigger than Texas! But how often does the average individual stop to think about where the resources we consume and pursue actually come from and what tools are used to manage those resources?
BE THE FIRST TO KNOW
Subscribe to receive our Water Insights
As our communities, cities and states all advance in development, unintended impacts to the environment have led to dwindling fish populations and stressed environments. In addition, the overwhelming popularity of fish in restaurants and grocery stores has increased demand, in some cases beyond sustainable population numbers. In response to these conditions, an important tool was developed that has been utilized for portions of two centuries to help manage populations, mitigate environmental concerns, and produce fish for consumption: the fish hatchery. Known globally as "aquaculture," fish and shellfish production in hatcheries represents an important component of protecting populations from declining to dire levels, as well as a means of providing mitigative support from development projects. The balance leads to a biological insurance policy that protects against fish losses and works toward securing the future of our fisheries for generations to come.
From its humble beginnings in makeshift facilities alongside the backwaters of rivers to state-of-the-art, center-of-town buildings that control everything from the temperature of the water to the color of the light, fish hatcheries have a rich history of supporting a beloved tradition and an important food source. Behind the scenes of producing fish, the planning, design and construction of hatcheries has evolved, keeping pace with the changing demands to produce.
In short, from food to fishing to environmental conservations, North American hatcheries offer an immense public service, backed by an intriguing and challenging development history. Let's take a brief look at two centuries of fish and shellfish production and the design needs that have driven their success.
Early History
In the early 1800s, westward migration and increasing populations across the U.S. and Canada brought on a range of challenges to native fish species.
Overfishing, habitat disruption, pollution and manufactured waterway obstructions became increasingly commonplace, creating a clear need to artificially support natural fish resources. As early as the 1850s, a decade before the American Civil War, wealthy individuals began artificially propagating trout near Cleveland, Ohio, and within New England. It marked the beginning of planning for, designing and constructing facilities. Only a few years later, several U.S. state legislatures commissioned studies of aquaculture as a means to reestablish struggling shad and salmon runs.1 Finally, in 1871, Robert Roosevelt — uncle to President Theodore Roosevelt — originated the bill that would establish the U.S. Fish Commission (now known as the U.S. Fish and Wildlife Service and NOAA Fisheries) in 1872.2
Canadian aquaculture followed a parallel path. In 1857, the first Superintendent of Fisheries in Lower Canada (now Quebec) began studying the process of incubating and hatching eggs for Atlantic Salmon and Brook Trout.3 Artificial propagation of oysters began not long after, in 1865, and later expanded to include Rainbow Trout and cod.
In the early days, hatcheries were established near natural spawning areas, which could take exhaustive scouting to locate. California represented an excellent location to mark the first U.S. national fish hatchery. California once held some of the largest runs of salmon and steelhead, but they were aggressively impacted not only by overharvest but also from dredging operations during gold mining that clogged waterways. These are still visible today, with mounds of cobble littered along the shorelines of major rivers.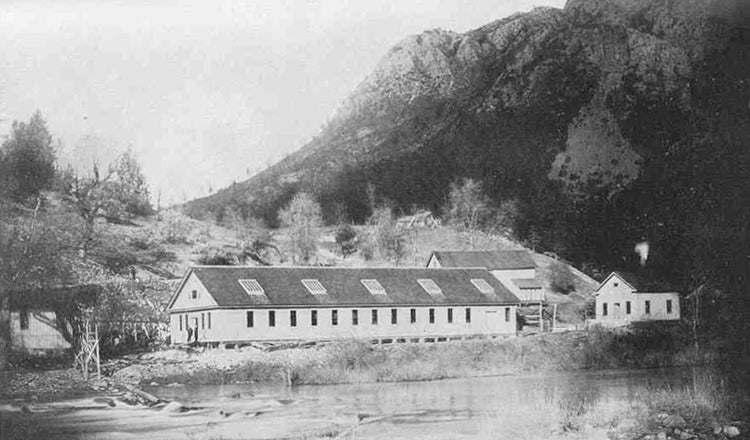 The first national hatchery, pictured above, was established on the McCloud River near Redding, California, adjacent to then untouched salmon spawning areas. It took months to identify the perfect location.4 Once established, salmon eggs were harvested by hatchery employees to be shipped by wagon and train to stock waters across the country.4,5 According to an 1872 account, this precious cargo was routinely packed between layers of live moss in thick wooden crates, each containing approximately 75,000 eggs, covered with a layer of ice.6 A successful shipment, despite the transportation and temperature control challenges of the day, would lose a mere 3% of eggs.
The actual construction of hatchery facilities came with its own set of challenges. The facility locations, justifiably, were driven by fish needs, rather than by the ease of construction or transportation of finished product. Remote sites, access to construction materials, the need for makeshift fish culture equipment, and general equipment to build the facilities were all early challenges faced by the industry.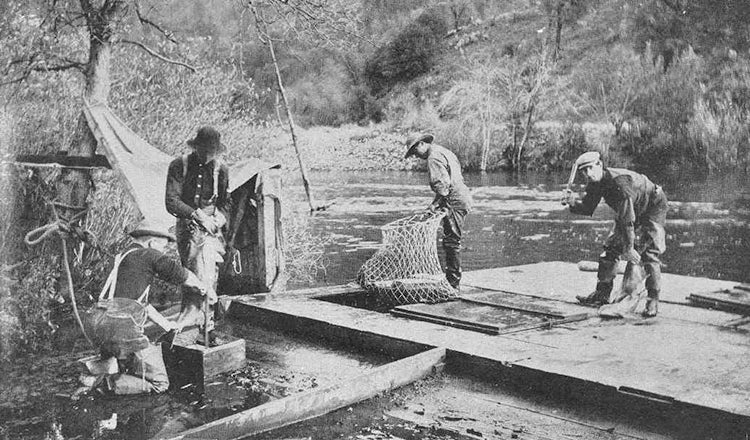 While many challenges existed, the concept of a fish hatchery was born in this era. By the turn of the century and roaring into the 1920s and 1930s, hatcheries were springing up throughout North America. Some of the earliest facilities still in existence today got their start during this time in places like Washington (Spring Creek Hatchery – 1901), Wisconsin (Art Oehmcke Hatchery – 1901), Pennsylvania (Pleasant Gap Hatchery – 1903), Ohio (St. Mary's Hatchery – 1913), Iowa (Spirit Lake Hatchery – 1915), Arkansas (Joe Hogan Hatchery – 1928) and Maine (Dry Mills – 1933).
Mid-Century
In the 20th century, the mission of aquaculture began to broaden from simply mitigating human influences on the natural environment for just a few species — such as dams and structures, pollution and overfishing — and expanded to include active preservation of fishery resources. This became particularly true as conservationist efforts entered the public consciousness in force in the 1970s, with legislation such as the Clean Water Act in 1972.
Many of North America's early hatchery facilities were significantly aging by the mid-century — some by then were as old as 100 years — and building new facilities had to be considered. This time frame also marked a transition toward producing more varieties of fish to meet angler and restoration demands. Larger and more sophisticated facilities were needed, as the science of aquaculture advanced techniques to successfully rear species that were traditionally not feasible.
These modern facilities centered on moving large volumes of water, producing mass quantities of fish and ushered in a new concept: visitor access. Small facilities once placed close to the spawning locations of fish, such as Baird Station on the McCloud River, were now being placed on expansive properties occupying hundreds of acres. Modern concrete raceways and lined ponds focused on production of warmwater species became common features of these facilities.
Designs in this era had to accommodate emerging technologies such as more sophisticated concrete harvest kettles that allowed for easier harvesting of fish, attempts at fish transfer systems to move fish throughout the facility and into stocking trucks, plastic liners in earthen ponds, pumping and discharging mass quantities of water, the use of well water with dissolved gases and indoor covered rearing facilities. Large design plan sets, biological reviews, fish growth modeling and modernized construction techniques were all part of the equation by mid-century.
HDR's history with updating, rehabilitating and designing fish hatcheries began in this transitional period. Since our start with studying, planning and designing hatcheries, our Fisheries Design Center has touched more than 300 state, province, federal and tribal facilities. The experience gained by this volume of work enables our team to remain at the forefront of hatchery renovations and the design of new facilities.
Modern Era
The current fish hatchery environment has undergone a significant transition in a short time. While the transition from historical hatcheries to the mass-production facilities of the '70s, '80s and '90s took almost 100 years, movement to the current state of hatcheries occurred over less than two decades. Water supply shortages, aging infrastructure, effluent treatment and nutrient removal, genetics, species conservation, climate change, unregulated chemicals, visitor outreach and the growing need to operate resilient facilities all hastened this rapid transition to modernization.
Aging infrastructure is an ever-present challenge to hatchery infrastructure in North America. While transitions to mid-century technology, production and infrastructure investment have taken place, many facilities are still operating with 80-year-old infrastructure in place (some even as much as 100 years old). Today, a key challenge for the industry is obtaining funding for these facilities to modernize antiquated equipment and implement modern techniques.
A primary goal for governmental and private facilities is now producing fish and discharging wastewater that does not negatively impact the receiving water body. Releasing solids and nutrients into hatchery effluent streams is an increasing concern for both fish producers and regulatory agencies. With increasingly complex watersheds, the levels of nutrients outlined in permits have reached an all-time low, with limits shrinking to as little as 12 μg/L for phosphorus. These low limits present a technical challenge and an operational complexity unforeseen in early generation hatcheries.
Water use trends, availability, water rights, impacts of climate change and extreme weather events all play crucial roles in the operation of fish hatcheries. As water uncertainty and the drive to utilize fewer resources prevail, technologies that allow for water recirculation in fish production have grown. This has resulted in very sophisticated facilities that use only a fraction of water compared to traditional facilities but incorporate a lot of treatment technology to maintain fish health and discharge water suitable for the environment to receive it.
While the past included some mass production of species for stocking throughout North America, today we work with numerous regional and even watershed-specific species. These include subpopulations of Pacific salmon species in the Northwest, trout in the Northeast, largemouth bass and catfish in the South, cutthroat species through the Rockies and a host of similar species through North America. The facilities we design must be flexible and adaptable to raise these species in biosecure and isolated settings to preserve genetic integrity.
Future climate changes could pose significant risks to hatchery infrastructure, and thus increased climate resilience in hatchery designs has also become a focus of facility modernization. Subtle changes in extreme weather events, warming water, season shifts and water shortages have profound impacts on aquaculture. As a result, our future facility designs must be able to accommodate such shifts.
Conclusion
North American hatcheries support food- and sport-related production, conservation efforts and research in fish disease, methodologies and more. Over the decades, these hatcheries have evolved from a few scattered, simple facilities producing one or two species to vast a network of more than 700 facilities producing hundreds of varieties of fish for restoration and food consumption.
HDR has been working alongside state and federal agencies, tribes and private hatcheries for much of this evolution to conserve and sustain fishery resources. Our staff have played a pivotal role in transforming historical facilities into modernized fish production campuses, complete with biosecurity, efficient equipment, worker safety and resilient features. Along the way, we've managed through design and construction challenges, enhanced our lessons learned and incorporated sensitivity to individual species' needs to produce state-of-the-art facilities capable of continuing the fish production mission started centuries ago. Many of the renovations today take place within the footprints of the original facility, thus incorporating history with modern features. Our Fisheries Design Center staff are dedicated to supporting and continuing the work of North American hatcheries for the next century of their history.
References
1 Taylor III, J. E. (1998, Spring). The Political Economy of Fishery Science and the Road Not Taken. Journal of the History of Biology, 31(1), 33-59.
2 Roosevelt, Robert Barnwell. (1920). In The Encyclopedia Americana.
3 Fisheries and Oceans Canada. "Farming the Seas – A Timeline." Fisheries and Oceans Canada, Communications Branch, Government of Canada, 3 Mar. 2015.
4 Leitriz, E. (1970). A History of California's Fish Hatcheries: 1870-1960. State of California, The Resources Agency Department of Fish and Game.
5 Dawicki, S. (2021, June 1). Baird Station: The First National Fish Hatchery. Retrieved January 14, 2022, from National Oceanic and Atmospheric Administration | U.S. Department of Commerce: fisheries.noaa.gov.
6 Stone, Livingston (1874). Salmon Breeding. Transactions of the American Fisheries Society, 3, 19-21.
Questions? 
Contact Matt Cochran at matt.cochran [at] hdrinc.com or at +1 (217) 415-4548 for more information.