Article
Landscapes in Translational Health Environments: Two Case Studies
Translational healthcare represents one of the most promising areas of clinical and research practice today. By their very nature, translational health environments are often found in the middle of massive healthcare campuses or even high-rise buildings. No matter how well designed a campus or building is, staff must have access to places of respite to disconnect from the often overwhelming, yet critical, job of delivering care. Patients need places and spaces to leave the clinical environment behind and connect to nature in order to heal. This is why integrating landscape architecture is an important opportunity to support the health and well-being of all users by establishing natural and relaxing places within healthcare environments that balance with clinical elements and support wayfinding elements that improve the human experience. 
Over the past few years, our design teams have had the privilege to work on healthcare landscape architecture projects that emphasize the importance that connection to nature plays in a clinical setting. 
Offering Respite in an Urban High-Rise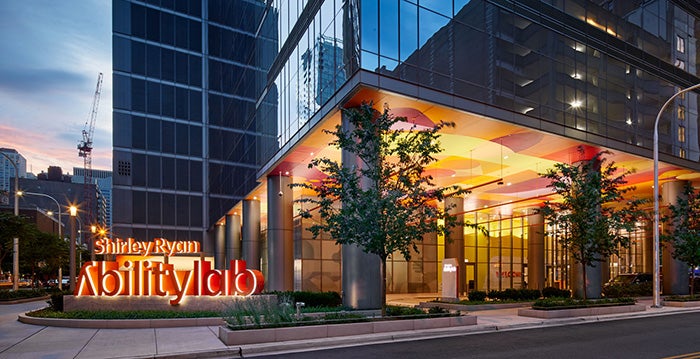 In March 2017, the Rehabilitation Institute of Chicago became Shirley Ryan AbilityLab and opened the doors to the first-ever, cutting-edge translational research hospital of the same name. More than just a change of address, this shift enabled the world's leading rehabilitation hospital to continue its mission to be the global source of science-driven breakthroughs in human ability. 
"The Soul Moves First."   
These words, painted in bold letters on the Shirley Ryan AbilityLab hospital's entrance wall, greet visitors and served as the inspiration for the design interventions that foster an atmosphere of hope, optimism and achievement.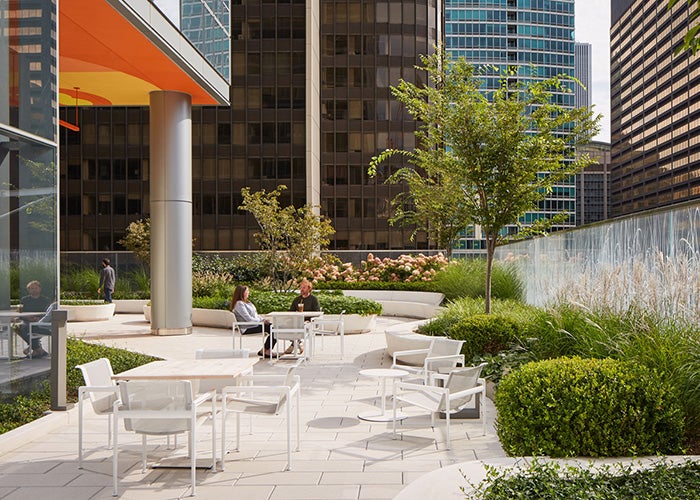 Our landscape architects found innovative ways to design program-flexible outdoor spaces at both ground level and at the 10th floor Sky Lobby. Because nature has the power to delight, calm and heal, it was important to connect patients and staff to the outdoors, even in a constrained urban setting. The multi-million dollar Sky Lobby gardens are linked to the interior program, with each providing different views of Lake Michigan and Chicago's skyline.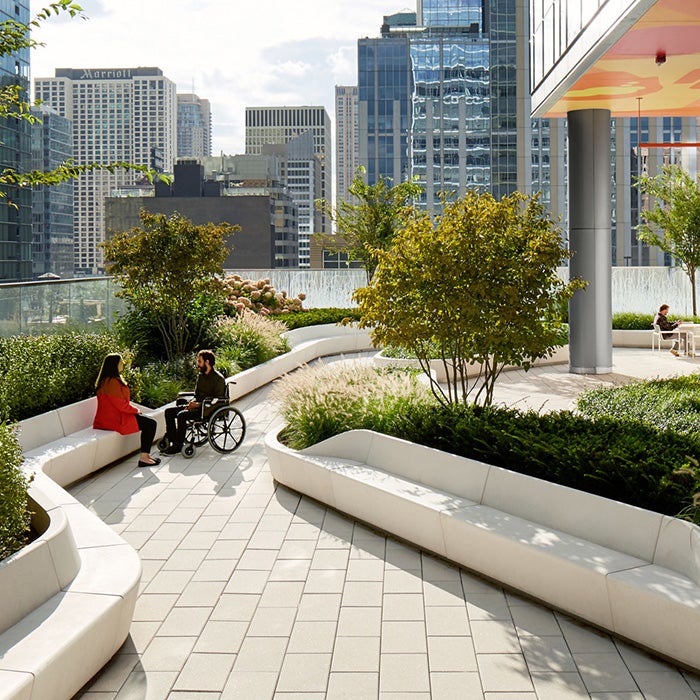 The concept of "frictionless" movement is woven through the design of the gardens, which can also be used for therapy. Curved, precast concrete seatwalls ease movement for those with functional impairments and provide a backdrop of lush plantings to the 10th floor space. Using parametric design tools, the landscape architects detailed each precast piece in three dimensions. This allowed for precise fit and finish during fabrication.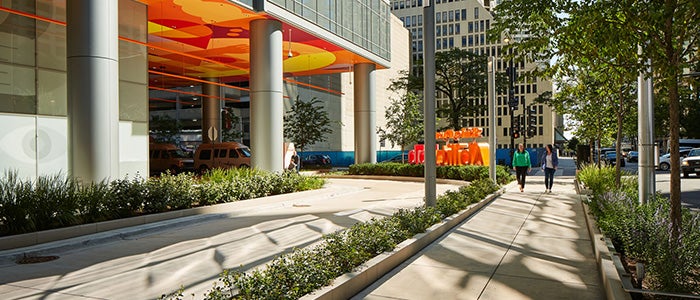 At ground level, our landscape architects were responsible for helping to position the building and for the design of the access and circulation concepts. The site design differentiates patient and public spaces, while intermingling this programmatic split at the entrances. Ease of access and clear on-stage / off-stage circulation focus patient and staff movements at street level. The surrounding landscaping frames the building and buffers vehicular and pedestrian traffic from the surrounding streets.
An Outdoor Oasis that Honors a Love for Nature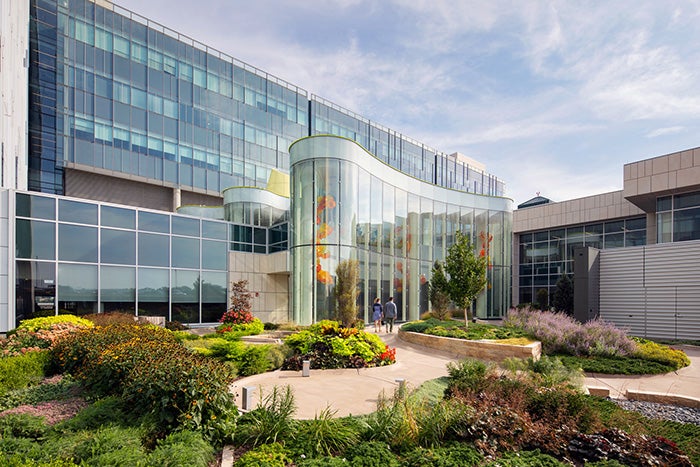 Longtime benefactors and supporters of the Omaha community, Marshall and Mona Faith, dedicated a 7,850-square-foot roof garden at the University of Nebraska Medical Center's Fred & Pamela Buffett Cancer Center to their third daughter, Leslie Faith, who battled cancer at age 2. Leslie loved flowers and was fascinated by and excited to explore nature. Marshall and Mona expressed, "Leslie would have loved this garden while she was being treated."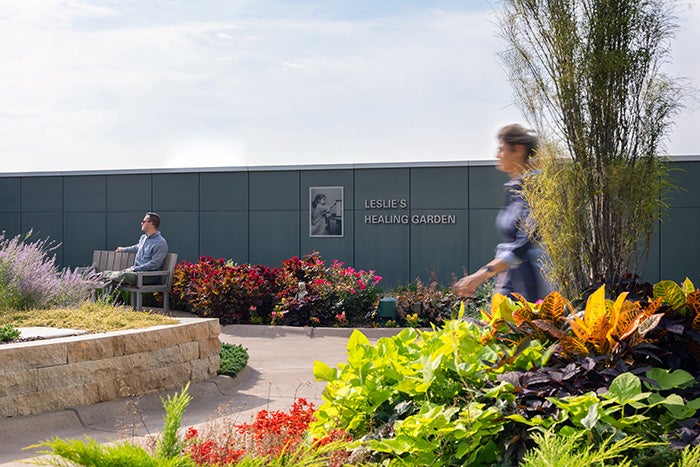 This new, unique space allows the memory of Leslie Faith to live on as an essential part of UNMC's Healing Arts Program. The Healing Arts Program aims to have a significant impact on each patient's mental health. The therapeutic elements — nature, water and white noise — within the Garden are designed within a series of circles representing the cycle of life. The hierarchies of different sized circles overlap one another to represent significant moments in our lives.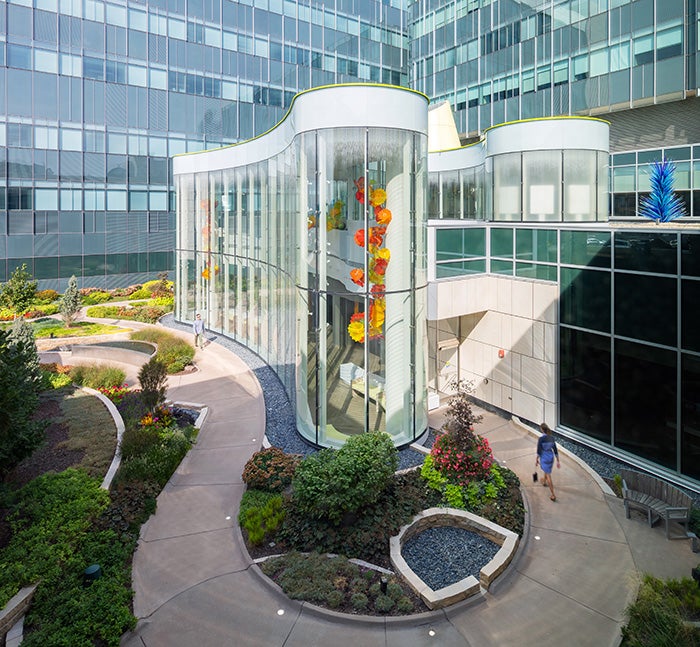 This outdoor oasis is home to forty different species of plants, varying growth media depths, a calming water feature, and a variety of seating options. Being at the epicenter of research and clinical care, the Garden allows patients, staff, and visitors to immerse themselves within nature and art. The Garden is also a stress-reducing environment, improves a sense of well-being, promotes an increase in physical activity, and allows patients a place of quiet respite before and after treatments.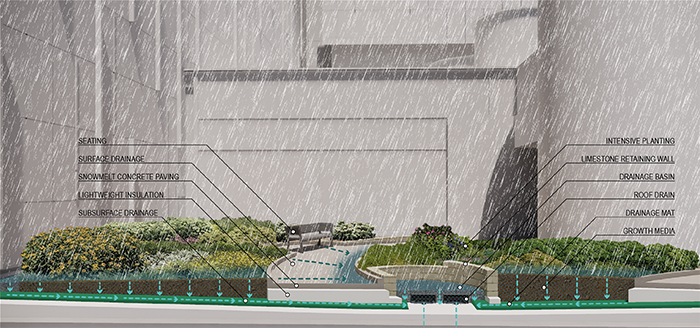 As these examples demonstrate, landscapes play a key role in creating environments that support the whole person — mind, body and soul. When integrated properly, positive site design and natural elements allow the user to seamlessly drift away from the clinical environment for a moment to reconnect, rejuvenate and heal.