Article
Opacity and the Importance of Listening
This essay was originally published in 33.3 This Point in Time, the fourth publication in HDR's Opacity annual design review. The Opacity design excellence initiative invites outside critics to assess a portfolio of work from our offices around the globe. The following essay serves as the Foreword to the book and is written by Jenna M. McKnight, an architecture and design journalist who has served as the Opacity book editor since 2017.
Be a great listener. This piece of advice is found in all sorts of places, from ancient proverbs to online TED talks. It sounds simple enough, but in reality, true listening — the act of paying full attention and letting the information sink in — can be enormously difficult. It requires time, focus, and patience. Most importantly, it requires an open mind.
In my experience, HDR is embracing the art of true listening through its ambitious Opacity program. While comprising many facets, Opacity is oriented around a yearly design review, in which outside experts from varied disciplines are invited to evaluate the firm's work and offer their feedback. These jurors are encouraged to be candid; the more incisive their commentary, the better. During the deliberations, there is no rebuttal from HDR – no chance to justify why certain decisions were made and others were not. The sole purpose of the review is to listen to the critics and absorb their insights. It's a commendable process that embodies these famed words by the poet Rumi: "The quieter you become, the more you are able to hear." 
Like most worthwhile endeavors, Opacity has been a long time in the making. It took root well over a decade ago, when members of HDR's Design Council started envisioning ways to bolster the firm's architectural practice. After much planning and a pilot program in 2011 (in which I served as a juror), Opacity was officially launched in 2016. Knowing that progress doesn't happen overnight, HDR smartly conceived Opacity as a 12-year initiative, divided up into four-year cycles. During a single cycle, there are three annual design reviews, each leading to the publication of a book featuring noted projects and jury input. The final year of the cycle is reserved for deep reflection and the development of a monograph.
As of 2020, HDR has completed one of three cycles, a milestone that has informed the title of the first Opacity monograph: 33.3 This Point In Time. It's a sweeping publication rich with content, from beautiful imagery and compelling infographics to thought-provoking essays by esteemed writers and critics, some of whom have served on Opacity juries. This monograph looks to both the past and the future; it also looks inward by exploring the people who make up the firm's vast architectural practice. As this book makes evident, HDR is composed of many distinct threads that are woven together to form a powerful collective. The Opacity program celebrates the diversity of this collective, along with its shared goal of design excellence. 
Speaking as a journalist who covers architecture around the globe, I can confidently say that the design profession needs more initiatives like Opacity. Most firms, especially powerhouse ones like HDR, tend to avoid critique, especially if it comes from outsiders. Who can blame them? Having your work picked apart is an uncomfortable experience. But listening to this feedback is critical to sparking fresh ideas and cultivating novel solutions. Without critique, we all risk becoming complacent and falling in step with the status quo.
Opacity is a remarkable initiative that ensures HDR will keep listening, keep innovating, and keep creating designs that transform our world. I am honored to be part of this visionary program, and I look forward to seeing all of the great work it inspires in the years to come.
About the Author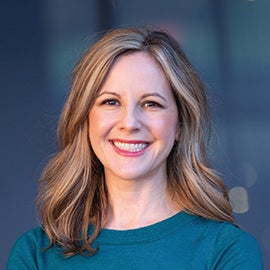 Jenna M. McKnight is a leading architectural journalist and editor. Her work has taken her around the globe, from touring skyscrapers in Manhattan to reporting on humanitarian work in Haiti and Burkina Faso. Jenna has held senior positions at major print and online publications, in addition to being the first digital editor at the global architecture firm Skidmore, Owings & Merrill. She currently is a contributing editor at Dezeen and helped launch the influential media company's office in New York. Beyond this book, Jenna served as editor of the first two volumes in the Opacity series, Rigor: Working With Intent and Verge: Empowering Our Ethos.