Podcast
Speaking of Design Ep. 21: Soundtrack for the Natural and Built World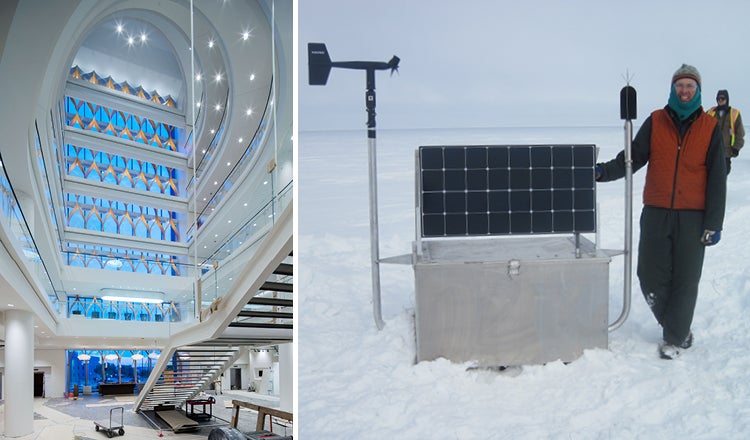 Whether it's limiting interstate noise, preserving the serenity of nature or enhancing an orchestral performance, our acousticians are listening. On this episode of Speaking of Design, hear how their work involves everything from protecting patient privacy in hospitals to maintaining the ambiance of backyard barbecues to visiting polar bear habitat. Their mission is to enhance the sounds you want and help mitigate the ones you don't.
Subscribe
---
Featured on this Episode
Tim Casey knows a thing or two about sound — whether he's performing with his band, conducting a noise and vibration analysis or providing expert witness testimony in a boxing ring (yes, you read that right!). As our environmental acoustics program manager, he leads a team of 12 in six offices. "Noise is a paradoxical pollutant," he explains. "It is not regulated as stringently as other pollutants are, yet outdoor noise can make people very unhappy."
More about Tim
---
Gina Jarta grew up with a dream of being a rock star. As it turned out, her musical talent provided a natural transition into her role leading our architectural acoustics practice, where she gets to consider how music will sound throughout a performance space. In addition to helping minimize noise from HVAC and mechanical systems in buildings, her work includes the unique sound considerations within healthcare facilities as well as office buildings.
More about Gina
---
Mike Parsons tagged along when his father worked as an electrical engineer for the railroad, so it's no surprise that Mike gravitated toward a career as a civil and environmental engineer. Talk to Mike for a few minutes, and you'll pick up on his passion for his role as a traffic noise analysis practice manager. His portfolio includes work on interstate expansions, new transit systems, combustion turbine wind farms and yes, even rail yards.
---
Mukul Pal was even more predestined to be an engineer — with a father, wife, sister and cousin sharing the same profession. He started his career as a transportation engineer/GIS specialist before joining his mentor Mike as a traffic noise analysis practice manager. Most of his work focuses on preliminary roadway design, environmental studies and public involvement related to traffic noise analysis. Mukul's 6-year-old son has become curious about his work, so the next generation may continue the family tradition.
---
Credits: Produced by Danny Sullivan and John Tourek. Special thanks to Tim Casey for providing his music for this episode. Additional thanks to Amanda Weihs.