Article
What to Know and Do to Receive IIJA Zero Emission Funding in 2022
The Infrastructure Investment and Jobs Act, also known as the Bipartisan Infrastructure Law, was signed into law at the end of 2021. This once-in-a-generation investment in infrastructure continues the authorization of the national surface transportation legislation and appropriates $550 billion for new infrastructure investments over the next five years. 
Funding to increase investment in electric vehicle supply equipment and alternative fuel infrastructure is included in its climate and resilience provisions. The U.S. Department of Transportation and the Federal Transit Administration are managing several new programs.
New EV Charging Infrastructure Funding
A total of $7.5 billion has been appropriated to build a national network of electric vehicle charging stations to allow for long-distance EV travel and provide convenient charging where people live, work and shop.
Two new Federal Highway Administration programs require updates to the alternative fuel corridors list by May 14, 2022, with ongoing periodical review. Before that date, the FHWA will issue a report with input from the U.S. Department of Energy identifying best practices and guidance for charging and fueling infrastructure and deployment. 
The new National Electric Vehicle Infrastructure Formula Program will provide $5 billion of formula and discretionary funds over the next five years to strategically deploy EV charging infrastructure and establish a network to enable data collection, access and reliability. States are required to submit an EV Infrastructure Deployment Plan to the Joint Office of Energy and Transportation by August 1, 2022.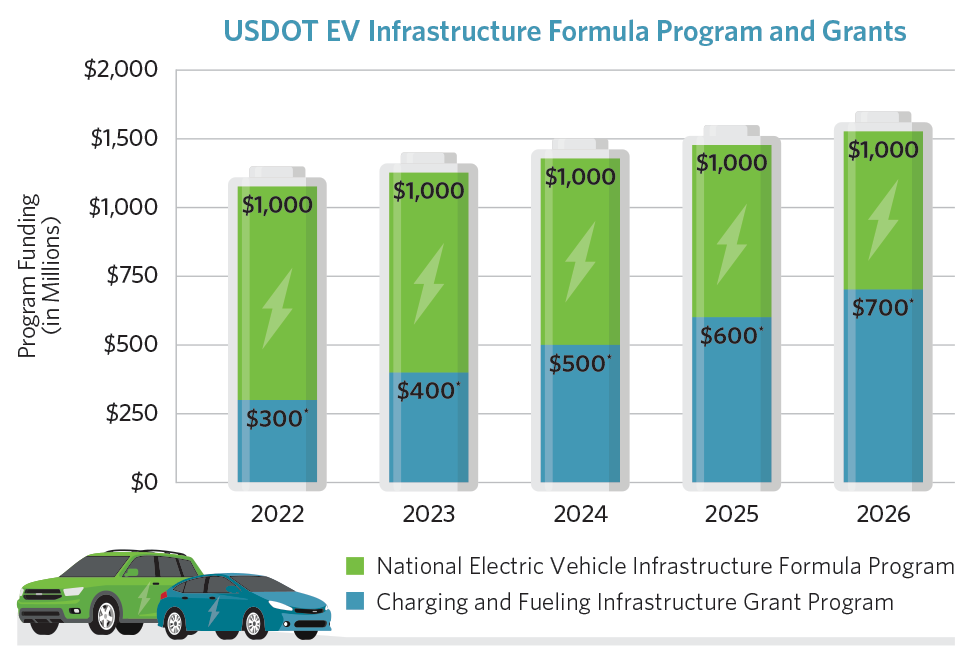 The new Charging and Fueling Infrastructure Grant Program will provide $2.5 billion in discretionary funds over the next five years to deploy electric vehicle charging and hydrogen/propane/natural gas fueling infrastructure along designated AFCs and in communities. Guidelines are being developed, and the FHWA will establish a grant program by November 15, 2022.
DOWNLOAD DETAILS & TIPS: IIJA USDOT NEVI FORMULA PROGRAM & GRANTS 
New Zero Emission Transit Funding
The largest federal investment in public transit ever, the IIJA authorized up to $108 billion to support federal public transportation programs over the next five years, including $91 billion in guaranteed funding. 
With climate as a key priority, some funds are designated to help state and local governments, eligible contractors and nonprofit school transportation associations replace thousands of transit vehicles with cleaner, greener buses and purchase the appropriate fueling and maintenance infrastructure.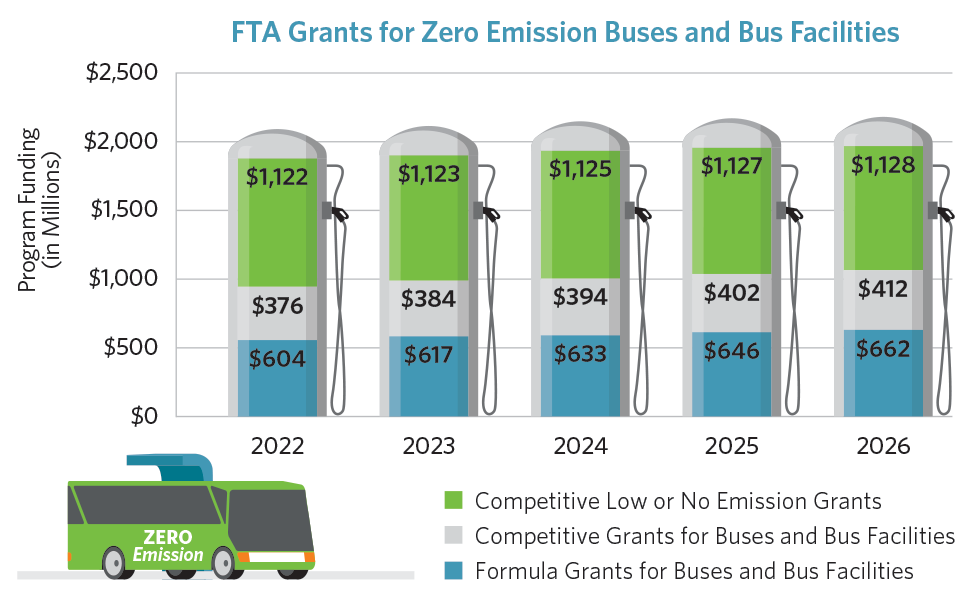 There will be $5.6 billion available over the next five years in FTA Low or No Emission Bus Grants to support the transition of transit vehicles to low or zero emission technologies, and $5.1 billion in FTA Buses and Bus Facilities formula and competitive grants to help replace, rehabilitate, purchase or lease buses and related equipment and to construct bus-related facilities including technological changes or innovations to modify low or no emission vehicles or facilities. 
According to a December 1, 2021, "Dear Colleague Letter" all FTA grant applications related to zero emission vehicles projects must include a Zero Emission Transition Plan.
DOWNLOAD DETAILS & TIPS: IIJA FTA BUS AND BUS FACILITIES GRANTS 
Help With the New Requirements
There has never been a better time to close funding gaps and move forward significant projects that can future-proof infrastructure and enhance public service levels. While federal agencies make plans to distribute the funds equitably and judiciously, state and local agencies, organizations and communities need to be pre-positioning projects for selection and grant awards. 
Too often, agency staff is already stretched to its limit and in many cases ZE vehicles and EVSE expertise isn't a skillset they have in-house. HDR offers a unique combination of transportation, energy and facilities experience to augment transit staff. Together, we can develop a zero emission transition plan that makes meeting formula fund requirements and submitting grants easier with the kind of comprehensive details that win award funds and facilitate implementation.
The download links above provide an easy-to-understand breakdown of new USDOT and FTA zero emission funding and requirements, including available funds, eligibility requirements and how you can put your best foot forward. Questions are welcome at zeroemissions [at] hdrinc.com (subject: IIJA%20Zero%20Emissions%20Funding) (zeroemissions[at]hdrinc[dot]com).