NEWS
HDR's Julie L. Labonte Inducted to UC Berkeley Academy of Distinguished Alumni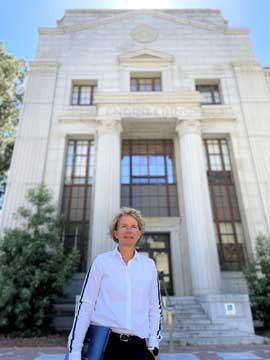 Earlier this month, Julie L. Labonte, P.E., HDR's global water director of program management, was inducted by the Civil and Environmental Engineering Department at the University of California, Berkeley as a member of its prestigious Academy of Distinguished Alumni. 
The academy's annual induction recognizes the noteworthy accomplishments of a few of its most successful alumni and highlights their contributions to societal well-being and development, both in the U.S. and around the globe.
Labonte received her third engineering degree — a master's degree in civil and environmental engineering with an emphasis in water — from the University of California, Berkeley. She then started her career as a consultant before joining the San Francisco Public Utilities Commission, where she advanced her career from water quality engineer to director of the highly acclaimed water system improvement program. After returning to the private sector in 2014, Labonte quickly became widely recognized as one of the water industry's top program management experts. She has a proven track record of delivering capital projects with a total value exceeding $20 billion and successfully implementing some of the largest and most complex water capital infrastructure programs in North America. 
According to Erin Hunt, HDR's water president, Labonte makes a significant impact on the water industry through her thoughtful and innovative leadership and her dedication to serving our clients and communities.
"She embodies HDR's "listen first" and "integrity and teamwork" core values," Hunt said. "Through Labonte's strategic leadership, we continue to advance our program management practice and develop the next generation of program managers."
Labonte is passionate about public service and volunteering in various capacities. Over the years, she has joined Water For People on volunteer assignments in Africa, leading teams to develop water systems in Rwanda and Malawi. Locally, she has championed education equity in San Francisco and encouraged girls to consider an engineering career by volunteering with the non-profit School Mentoring and Resource Team also known as SMART.