NEWS
Rockefeller Wildlife Refuge Gulf Shoreline Stabilization Project Honored With 2023 OCEA Bronze Award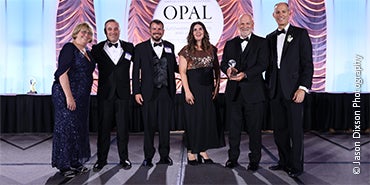 The Louisiana Coastal Protection and Restoration Authority's Rockefeller Wildlife Refuge Gulf Shoreline Stabilization Project, a 4-mile lightweight aggregate core breakwater on Louisiana's Gulf Coast, earned the Outstanding Civil Engineering Achievement Bronze Award from the American Society of Civil Engineers. The honor, announced Oct. 20 at a gala in Chicago, is one of the most prestigious in civil engineering.
"CPRA was honored to receive this distinguished award and accepted it on behalf of our agency and the local, state and federal partners who made the Rockefeller Wildlife Refuge Gulf Shoreline Stabilization project a success," said CPRA Executive Director Greg Grandy. "The conditions we faced along the shoreline were unique and required an innovative solution. I am proud to say that we rose to the challenge by pioneering a new method that not only allowed us to protect this vital refuge but could also have far-ranging applications in the fight to slow down and reverse erosion along Louisiana's coast. The engineering and design work done on this project is an example of how we continue to find ways to successfully respond to challenges and move Louisiana's coastal program forward." 
Serving as the engineer of record, HDR's design is the first in an open gulf. It reduces the quantity and severity of waves hitting the shoreline while gaps allow movement of organisms, water and sediment between the gulf and marsh. It offers a ray of light to the state, which loses 18,000 acres of wetlands each year to erosion. Tested just months after completion, the breakwater withstood Hurricanes Laura and Delta and reduced shoreline erosion.
Completed on schedule and on budget, the project's scope expanded from three to four miles when construction bids came in lower than expected. The first-of-its-kind project halts the eroding shoreline, protects crucial habitat and preserves a future for this vital refuge.
Rockefeller Refuge previously earned an Honor Award from ASCE, putting it in the running for this year's top award, and was one of several HDR projects honored at the gala including Council Bluffs Interstate System Program Management, Hugh K. Leatherman Terminal, I-579 Urban Open Space Cap and The Pavilion at the Hospital of the University of Pennsylvania, which won Honor Awards. Additionally, Ying Tan was named a fellow by the ASCE Board of Direction.