2019 Flood Response and Recovery Efforts
2019 Flood Response and Recovery Efforts
Swift Assessments, Inspections and Repairs Manage Major Iowa Interstate Closure 
In March 2019, record Missouri River flooding caused substantial damage to infrastructure across southwest Iowa, closing several river crossings, flooding 60,000 acres, and leaving people unable to reach jobs, schools, healthcare and other services. Approximately 48 miles of Interstate 29 near the river were closed, severing the main connection between Omaha/Council Bluffs and Kansas City. The detour between the two metro areas required travelers and freight to travel an extra 130 miles and nearly two hours, costing users nearly $200,000 per day.
Within days of a request from the Iowa Department of Transportation, an HDR team mobilized, providing more than 110 staff employees to help monitor and respond to the emergency.
We provided on-call flood response and support, with tasks for damage assessments; emergency bridge inspection, design and repair; levee design, permitting and construction inspection; strategic communications; complex 2D hydraulic modeling; construction engineering and inspection; betterment and resiliency analysis; and GIS StoryMap development. Our experts also focused on how to provide resiliency in future floods.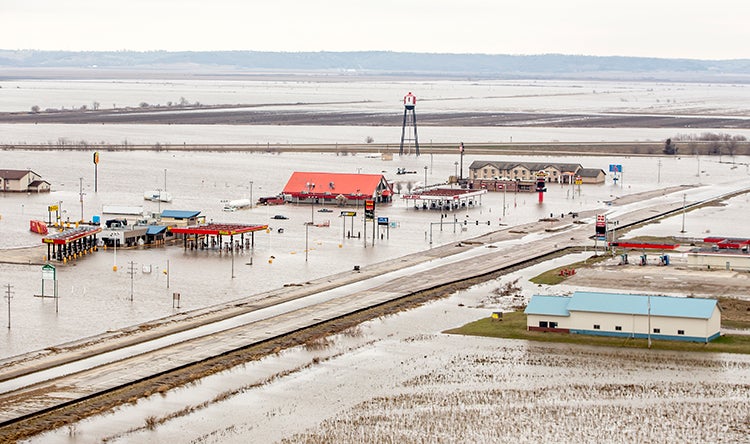 Damage Assessments
Using a GIS StoryMap that was uniquely set up to provide easy access to public agencies and HDR staff, we provided daily damage reports, status updates and photos to Iowa DOT. Data was pushed to an online cloud interface and, using cartographic techniques, visualized to show the most pertinent information. Our team leveraged sentinel 2 and Landsat 8 imagery, surrounding state DOT 511 services and National Weather Service flood gauges to record a more complete picture of conditions on the ground.
The GIS StoryMap site was shared in real-time with Iowa DOT and FHWA and this map became the single data source for project information, used by DOT management to review the current project status and to provide daily briefings for the governor's office. The map was critical to the overall flood response and recovery efforts, and Iowa DOT said this approach will be considered for future disasters.
Our team also built one of the largest 2D hydraulic maps developed in the region, with more than 1 million wet cells at peak flood. The 110-mile-long by 8-mile-wide, detailed hydraulic model provided ongoing decision support for flooding problems along the Missouri River. The model used the recently developed TUFLOW HPC engine that allowed the team to model the large domain with better resolution than previously possible. The model was more complicated than most riverine models because it incorporated levee breaches, a large inundated floodplain, roadways, culverts and simulated months-long hydrographs.
Emergency Inspections and Repairs
Emergency response for bridges on I-29 primarily focused on the twin bridges at mile marker 8.5. A survey showed the twin I-29 bridges, not designed for high flow rates, were suffering from substantial scour. Survey data estimated that scour had reached the last couple feet of the timber piling on one pier and the bridge was at risk of imminent failure and collapse. Our team contacted Iowa DOT management and the bridge was immediately closed.
Repairing the bridges was critical to restoring traffic on I-29, so Iowa DOT selected a contractor to work directly with us on this emergency situation. We provided design and construction administration, and we developed graphics and models to demonstrate the quantity and location of scour. The team worked closely with the contractor to determine what equipment and material they had, how fast it could arrive onsite and what pile materials they could get the fastest from manufacturers. Within weeks, our team custom-designed the retrofit using steel beams and other materials the contractor had readily available. Design and construction was completed within six weeks.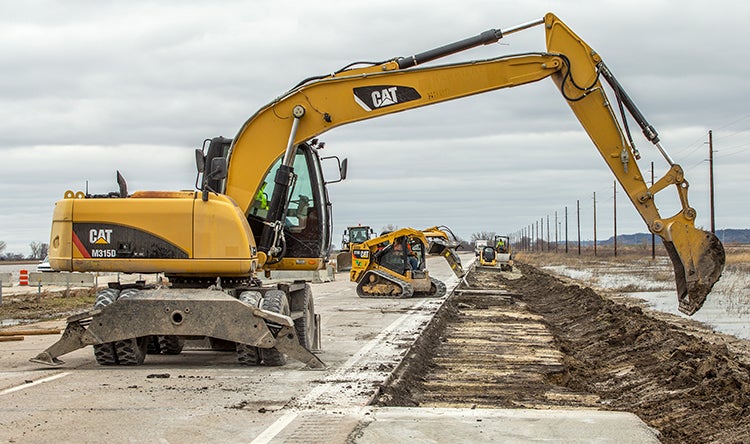 Future Resiliency
The spring 2019 floods were the second time this area has flooded in eight years. So the team focused on improvements to provide resiliency after future floods, using Iowa's first application of Flexamat shoulder protection.
This was the first time this material had been used in Iowa. Our team developed a computational fluid dynamics model to understand how the material would perform. This model evaluated near-field hydraulics, turbulence and flow rates over the roadway and the threshold of protection provided. As a result, Flexamat was installed on I-680.
The design and product performed well just weeks later in May, when water rose again. Areas of I-680 where Flexamat was installed were protected and the road reopened hours after waters receded with no new damage to shoulders or the roadway.