Florida Electric Vehicle Infrastructure Master Plan
Florida Electric Vehicle Infrastructure Master Plan
Developing a Statewide Plan to Support Reliable, Equitable and Sustainable EV Travel
Florida is the third most populated state and hosts more than 130 million visitors who swell traffic numbers each year. To support the transformation of Florida's multimodal transportation infrastructure and enable the future of electrified mobility, the state passed a statute in 2020 requiring a strategy to develop statewide Electric Vehicle Supply Equipment (charging stations) infrastructure along its highways.
FDOT tasked HDR with developing the statewide master plan, including infrastructure, siting, intervals, policy, emerging technologies and financial impacts from loss of gasoline sales taxes.
The Electric Vehicle Infrastructure Master Plan aims to support short- and long-range EV travel as well as emergency evacuation, adapt state infrastructure consistent with market demand, and ensure the availability of adequate and reliable EV charging stations.
HDR put together a multidisciplinary team headed by local staff and including our zero emission/electrified mobility professionals from the transportation and power sectors, economics and finance experts, GIS specialists and key strategic communications staff. Through research, extensive public engagement and collaboration with other state agencies, the team worked with FDOT to develop a comprehensive plan that outlined the challenges and opportunities associated with electric vehicle charging station infrastructure along its state highway system.  
Our work included innovative methodologies and approaches, including a multivariate analysis using comprehensive, data-intensive GIS mapping to fill in the gaps of the existing charging network. We conducted an EV market adoption analysis to quantify the level of EV adoption using Florida Department of Highway Safety and Motor Vehicle's vehicle registration data. This helped us understand the geographic distribution using zip code-level data and allowed us to forecast EV adoption rates. To address emergency evacuation and sustainability, we developed an outside-the-box "EV mobility hub" recommendation for a unique, mobile solution that provides flexibility and continues to garner EV industry support.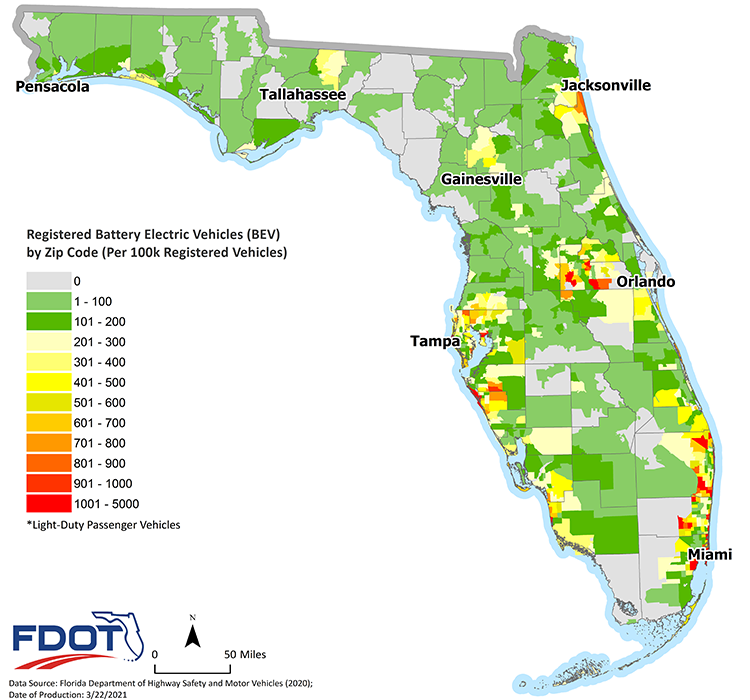 Another notable highlight was recommending partnerships and collaboration opportunities with local, state and federal government entities, electric utilities, the business community and the public.
This project received an honorable mention from Fast Company magazine as one of its "World Changing Ideas," for the innovative way we are "tackling the biggest challenges of our time."
FDOT also selected HDR to serve as owner's representative for its electric vehicle program. This five-year contract, the first of its kind in the U.S., includes strategic planning, procurement, implementation and monitoring of electric vehicle charging infrastructure throughout the state.