Liberty Bridge Rehabilitation
Liberty Bridge Rehabilitation
Innovative Full-Deck Replacement and Accelerated Bridge Construction Elevates Resiliency and Accessibility for Pittsburgh Commuters
The Liberty Bridge has been a landmark structure and Pittsburgh icon since it opened in 1928. However, by 2014, the bridge carrying 55,000 vehicles per day was in poor condition and could no longer carry legal loads. The Pennsylvania Department of Transportation, HDR and our subconsultants worked closely to develop a rehabilitation project that preserves the structure and meets current engineering and accessibility standards.
HDR served as the lead firm for rehabilitation design, including truss repairs, deck replacement design and design-build specifications for maintenance of traffic. In addition, we determined an Exodermic deck to be the solution for the failing grid deck — the first ever used in Pennsylvania to provide a stiff, lightweight replacement. Portions of this deck were installed with accelerated bridge construction techniques to minimize traffic delays on the bridge.
Minimizing Disruptions and Innovating Solutions in Response to Accidental Construction Fire 
During the bridge's $80 million rehabilitation, an accidental fire during construction warped and buckled a main truss compression chord, forcing an immediate bridge closure for traffic on it and river traffic below it. PennDOT quickly assembled a talented team that raced to assess the damage and develop solutions to repair the bridge and reopen this critical urban link. HDR served as owner's engineer for the emergency fire response effort, working alongside Federal Highway Administration experts, other consulting firms, specialty contractors, and experts from several universities to respond to this emergency.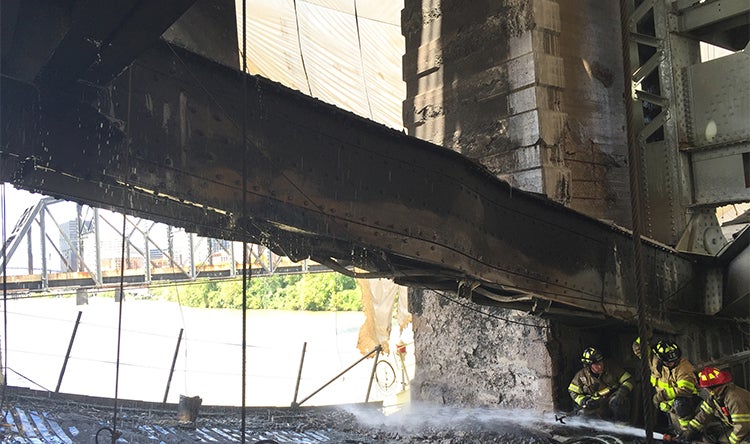 Our team built a 3D analysis model to assess the crippled structure, including both trusses, every bracing member, and the partially removed deck. Using hand-drafted documents from the 1920s, we modeled hundreds of unique truss and bracing members. Completed in just 24 hours, the new model showed the bridge dead load didn't overstress any members. This finding gave authorities confidence in opening the river below the structure to commercial traffic, preventing further economic impact to river commerce. 
There was not a historical precedent for how to address the damage to the steel structure. The buckled member had shortened about two inches and was badly damaged. The full weight of the bridge had to be temporarily supported around this member, so it could be straightened and repaired. The solution developed involved attaching a heavy steel frame to the member to push the ends apart and straighten the buckled steel. Working around the clock, the owner-contractor team designed, reviewed, fabricated and installed a first-of-its-kind jacking frame. HDR's team supported this effort with a grueling schedule of morning/afternoon meetings, followed by overnight reviews of plans and calculation submittals, which needed to be returned for meetings the following day. This schedule was repeated for weeks as the frame was designed and constructed.  
The final frame included 11 jacks with each working together to twist, straighten and stretch the damaged member back to its intended geometry. To maintain safe operation of this complex machine, a 77-step jacking plan was developed. Displacement and force data were collected and measured in real time to monitor the stiffness of the structure under load and verify the structural response aligned with expectations from extensive 3D modeling. Through use of this sophisticated frame, the contractor safely straightened the twisted member. The project could have suffered a major setback, but through great teamwork, innovation and collaboration, it was re-opened just 24 days after the fire. 
Innovation Kept Traffic Open, Reduced Delays and Accelerated Construction
Not only was the emergency fire response safely expedited and executed, accelerated implementation of the planned innovations benefitted commuters and highlighted opportunities for future project delivery options.
Before deciding to completely replace the bridge deck, an innovative year-long test program was used to evaluate the constructability of re-using the existing grid deck as well as possible replacement overlay materials on the 170,000 square feet bridge deck on the structure. For the test, asphalt was removed by combination of skid loader, and high-pressure water (hydro-demolition).  Hydro-demolition also was used to remove a portion of existing concrete within the grid deck cells.  This material was replaced with three different concrete materials to evaluate their performances. The wisdom of testing was shown when all overlays failed to perform adequately on this grid deck, leading to full deck replacement.
After the test, we found that an Exodermic deck was the best solution for deck replacement. Prefabricated panels could be installed over weekend closures and connected with high-strength concrete. Utilizing a custom rapid-set concrete mix allowed traffic to use new deck sections just a few hours after the concrete was poured. The new deck combines the strength of steel T-beams with reinforced concrete on top, making it strong, light and easy to overlay in the future.
Supports at the bridge joints were also extended for this project to meet current seismic requirements and improve public safety. The new deck, joints and drainage system will protect the steel from road salts and reduce maintenance costs.
This project was executed in four phases using accelerated bridge construction techniques, and three lanes of peak weekday traffic remained open at all times.
With the first Exodermic grid deck in Pennsylvania, this project demonstrates that weight savings and rapid replacement are possible with lightweight, precast Exodermic deck panels — meeting the growing public demand for rapid bridge construction. PennDOT is now equipped with specifications for the deck panels, precast concrete and rapid-setting concrete for future use.
Increasing Accessibility and Resiliency for a Landmark Bridge
While the previous iteration of the bridge had a pedestrian sidewalk, it ended in a long staircase on the city side of the bridge, making it inaccessible for those who use wheelchairs or have other physical limitations. By repurposing a portion of the existing roadway along the Boulevard of the Allies and Second Avenue, this project added more than 800 feet of new sidewalk to enhance the pedestrian connection to the city and make the structure compliant with the Americans with Disabilities Act.
After performing hundreds of unique repairs on steel beams, truss members and connection plates, and replacing the bridge deck and supporting stringers, trucks can now use the structure. This makes the movement of goods simpler and contributes to commerce in the region.
This project has preserved this bridge for generations to come, while bringing it up to current standards for engineering, safety and ADA accessibility. The rehabilitated bridge will support life in Pittsburgh for generations, permitting all people to enjoy crossing this historic structure.