Link Union Station (Link US)
Link Union Station (Link US)
The Link Union Station project will redefine mobility in one of the world's most dynamic settings. An anchor for the state's evolving commuter, freight and light-rail systems, the station intersects with LA's sprawling highways, bus and bus-rapid-transit routes, and its burgeoning bikeways and pedestrian paths.
 As the lead design and environmental firm for Los Angeles County Metropolitan Transportation Authority, we're helping the agency transform historic Union Station from a termination point to a run-through station. And as simple as that change may sound on the surface, the project will have impacts that reverberate well beyond downtown LA; it will drastically boost capacity and volume at this major Southern California transportation hub, and improve fluidity for virtually all modes of transportation throughout the state. This extra capacity will not only accommodate future growth of Metrolink's Commuter Rail increased service, but will also be able to accommodate a future California High-Speed Rail System.
Transforming Union Station requires a holistic approach to ensure the modifications harmonize across many systems existing together. For example, adding run-through railroad tracks means building them over a major arterial — U.S. Highway 101. And efficiently merging the new tracks into the existing rail yard will require reconfiguration of the yard's entryway ("throat") as well as the yard itself.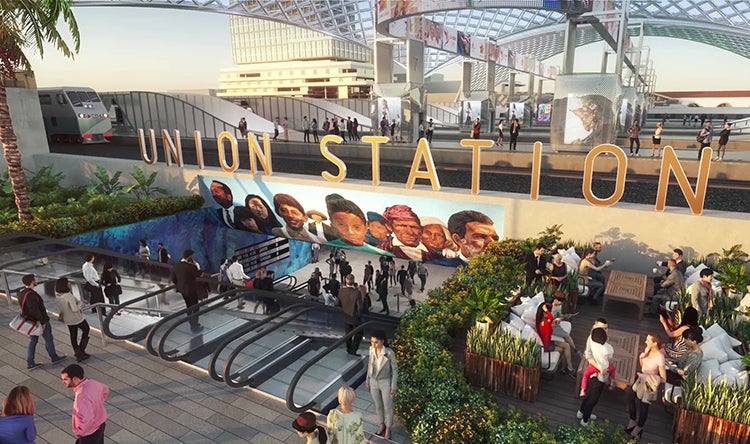 With greater throughput will come greater ridership. The influx of riders resulting from the station's improved infrastructure will need a next-generation concourse and platforms that provide passengers with a world-class experience. That's why we're also helping LA Metro design Union Station's new modified expanded concourse, ADA-compliant boarding facilities and a new open plaza space between the historic station and the concourse.
Our lead design, engineering and architecture services run the gamut — from planning studies, funding support, and public outreach to alternatives analysis and coordination with multiple corridor design teams, cooperating agencies and stakeholders. Among them are Metrolink, Amtrak, Caltrans, CalSTA, CHSRA and the City of Los Angeles. Our teams are providing preliminary engineering and architecture plans, specifications and estimates (PS&E) for bridges, track, and platforms. Specialty services include environmental analysis, permitting and monitoring, transit-oriented-development planning, positive train control planning, rail modeling, construction phasing and cost estimates as well as constructability reviews. To date, our team has received approval of the California Environmental Quality Act Environmental Impact Report and has submitted Preliminary Design for the first phase of the project.
LA Metro's planning of Link US is focused on advancing the community's goals, which include stronger multimodal connections and vibrant urban development. In addition to the more technical facets of engineering and architecture, we are providing comprehensive consulting support to help LA Metro make informed decisions so that each design feature captures greater value. Extensive public involvement with agencies and stakeholders is also helping to make the transformation possible.
Creating a new primary activity center at Union Station will encourage mixed-use, walkable districts to take root where blighted parcels once stood. Consequently, the new station will effectively create a "destination" that perpetually fuels the economy.
The Link US project has become a touchstone for the industry. It is central to Southern California's vision of how transportation will evolve to help solve societal needs and improve quality of life. We're proud to partner with LA Metro to refine its vision, which will undoubtedly set precedents for other agencies to follow.