Taikang Nanjing International Medical Center
Taikang Nanjing International Medical Center
A Healing Wave for Nanjing
The design inspiration for the hospital emerged from the unique site upon which it resides. The intuitive feeling of the location radiates a symphony of natural elements existing together in harmony. The visual images, natural sounds, and feel of the mountains, wind, and water are calming and comforting, offering a unique healing energy.
"Healing Wave" is the design concept for the new facility — a combination of harnessing nature's healing power and positive energy.
The Healing Wave is composed of three elements:
A nature wave, soothing the senses with its beautiful imagery and peaceful sounds.

A human wave, creating unique spaces evolved far beyond the ordinary hospital experience, allowing patients to connect with friends and family members, as well as with the working staff.

A medical wave, using the latest technology and knowledge not only to make a profound impact by curing patients, but also to advance the community and the city of Nanjing into a distinctive leader in healthcare.
Our hospital design creates a strong connection with the already existing hospital and future building sites, including the senior housing and senior care center. It emphasizes energy saving and sustainability, creating an even stronger connection to nature.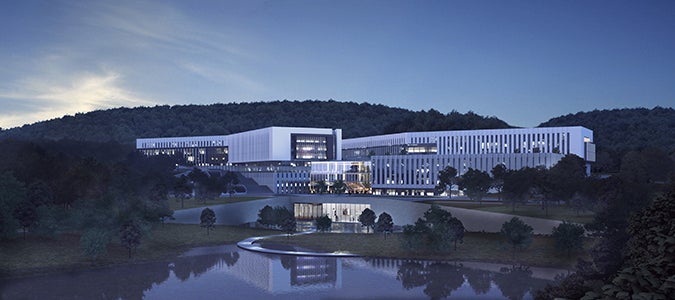 A Natural, Fluid Aesthetic
The tower's elevation design reflects the image of tranquil flowing water, remaining visually lightweight and blending into the natural elements. The design of the podium shapes the image of the Nanjing's Great Wall to create a strong trust and a solid foundation for this medical facility. The exterior facade emphasizes the horizontal lines and the shape of the Healing Wave harmonizing with the existing lake and its natural surroundings.
The rooftop of the hospital offers the patients, visitors and staff an extension of nature, landscape features filled with local vegetation and reflective pools of water. The rooftop is easily accessible to all and also provides refreshing, unique views of the mountainous healing atmosphere. The site landscape design also takes advantage of the surrounding topography, creating gardens, light wells, and an amphitheater, all gesturing toward the existing lake and using flowing water to tie the design into a cohesive language.