West Lake Corridor Commuter Rail Extension
West Lake Corridor Commuter Rail Extension
Program Management for a Major Expansion of NICTD's Services
The Northern Indiana Commuter Transportation District for decades has operated the South Shore Line commuter rail system that brings passengers from South Bend, Michigan City and Gary, Indiana, to Millennium Station in Chicago. In 2016, the District committed to an 8-mile extension, a $944.9 million design-build project that brings service to three municipalities in Lake County, Indiana: Hammond, Munster and Dyer.
The District had never undertaken this kind of expansion, and it tapped HDR for our expertise with Federal Transit Administration grants. The team provided program management for all aspects of the FTA grant: supporting NICTD as it entered the Capital Investment Grant  program in 2016, making the FTA application and getting approval to enter the engineering phase and finally securing the West Lake Full Funding Grant Agreement, which was achieved in late 2020. HDR's role in assisting the District extends through delivery of the project in 2025. HDR also developed the 30% design and led the NEPA environmental review.
The team's experience with FTA grants and relationships with the agency meant that all required deliverables and milestones for the grant were achieved on schedule. They were able to confer with FTA officials throughout the process to ensure that the FTA's expectations would be fully satisfied to secure the full funding grant agreement.
A groundbreaking for the project was held on Oct. 28, 2020, along with a virtual grant signing for the FTA's $354.6 million Capital Investment Grant.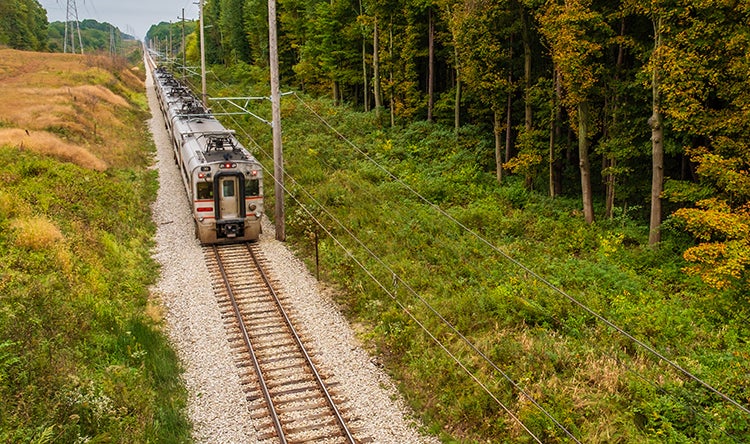 HDR developed the 30% design and design build technical provisions, and in the subsequent contractor bids the design remained substantially similar. Many disciplines contributed to the effort, including environmental, civil, track, structures, systems, signal, geotechnical, traffic, bridge and track hydraulics, parking, ridership modeling, passenger operations modeling and communications professionals. We provided a one-stop shop for NICTD's needs.
Additionally, our team compiled the final environmental impact statement. The FEIS won an FTA Outstanding Achievement Award for Excellence in Environmental Document Preparation  in 2019. The HDR-led West Lake Corridor Final EIS and Record of Decision reflects FTA Region V's new "best practices" review process, fulfilling requirements for content, utility and practicality in environmental documentation. The document was seen not just as an end result of the NEPA process, but also the start of the next phase when the environmental commitments will be thoughtfully executed by designers and contractors.
The West Lake Corridor is the largest transit infrastructure project in Indiana history. HDR is set to provide program management, design review and environmental commitment monitoring support throughout construction.