Yesler Way Bridge Reconstruction
Yesler Way Bridge Reconstruction
Historic Preservation Meets Structural Rehabilitation in Seattle 
Seattle's Yesler Way Bridge, built in 1910, is one of the city's oldest steel bridges. This visual gateway to central Seattle is located on the downtown side of the Pioneer Square neighborhood, a premier city landmark. A major east-west arterial connection, the bridge carries more than 6,000 vehicles daily, along with seven bus routes. Yet over a century later, its traditional presence was threatened by crumbling abutment walls, seismic vulnerability and the constant risk of catastrophic collapse from vehicle impacts. 
In 2016 the bridge was ready for a much-needed facelift. HDR served as the lead design firm for the Seattle Department of Transportation's $20.4 million Yesler Way Bridge Reconstruction project. We were eager to help renovate and rehabilitate the bridge and add 100 more years of operational life to the distinctive structure. We balanced historic preservation goals while providing a safer, more accessible and resilient bridge that was less at risk from earthquakes and the impact of vehicle strikes.
Our strategy for minimizing the bridge's risk of collapse had two main components: raising the bridge and replacing its outdated superstructure. Our design raised the bridge's north edge almost 2 feet, improving the vertical clearance to a 16-foot height (easier for trucks passing underneath). We also eliminated the "non-redundant" risk of its three-span superstructure by replacing it with a single-span, splayed-girder design that shifts all of the bridge's vertical loads to the abutments. Also, new seismic-resilient elastomeric bearings now support the superstructure on the lowered abutment walls — providing a sturdier foundation than the previous vulnerable columns. 
Safety considerations also meant a considerable amount of work around the bridge structure itself. The north stairways and the sidewalks at the bridge's west and east approaches were reconstructed, as was the concrete retaining wall at the bridge's northwest corner. A new reinforced concrete barrier was installed with steel picket panels — all to protect pedestrians, bicyclists and motorists better. 
New ADA-compliant curb ramps further enhanced pedestrian safety and safer, wider bike lanes were built to benefit Seattle's avid bicycling community. We also reoriented the elevated Terrace Street and Yesler Way intersection alignment to improve driver visibility, and we widened and reconfigured sidewalks to reduce the crosswalk distance and slow down approaching vehicles.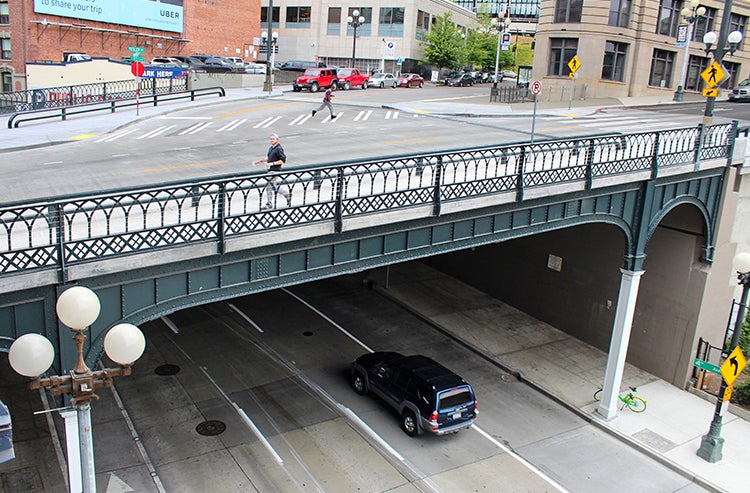 Restoring and Modernizing a Classic
At the same time, our team was working with three of the city's historic districts to maintain Yesler Way Bridge's classic, character-defining elements: original pedestrian railings, riveted steel fascia girders, cast iron columns, capitals, and cladding, abutment corbels and light fixtures. Multiple 3D scans of the fascia girders and cladding yielded accurate digital dimensions to help the team analyze the bridge before it was deconstructed. After these original parts were removed from the bridge, they were disassembled, cleaned and — in the case of the cast iron elements — welded and repaired. Restorers followed an orderly process; they first inspected each piece offsite and documented the degree of deterioration before customizing repair procedures. 
Later on, back at the project site, workers applied equally sensitive care to reinstall these vintage components to blend in with and help sustain a safer, more stable and future-proofed bridge design. For example, the new bridge's streetlight poles are prepared to handle overhead power lines, tying into Seattle's plans to expand the city's electric bus routes.
Unforeseen conditions affect any construction project, so collaboration and teamwork are vital. We worked with the construction contractor and SDOT to re-sequence construction tasks a number of times to ensure bridge stability during the deconstruction and reconstruction phases, devising new solutions as hurdles arose. Challenges ranged from a month-long concrete truck driver's strike to hazards posed by congested underground utilities. We also worked with the surrounding urban neighborhood to minimize the project's impact, such as creating and modifying safe routes to help local pedestrians navigate through the worksite during its various operational stages.
The Yesler Way Bridge Reconstruction project, completed on time in October 2017, is a fitting example of how design teams and cities can breathe new life into iconic historic structures and still facilitate sustainable growth.