In The Media
Pittsburgh's Park on an Interstate Featured in ASHE's Scanner Magazine
I-579 Urban Open Space Cap Named 2023 Project of the Year by American Society of Highway Engineers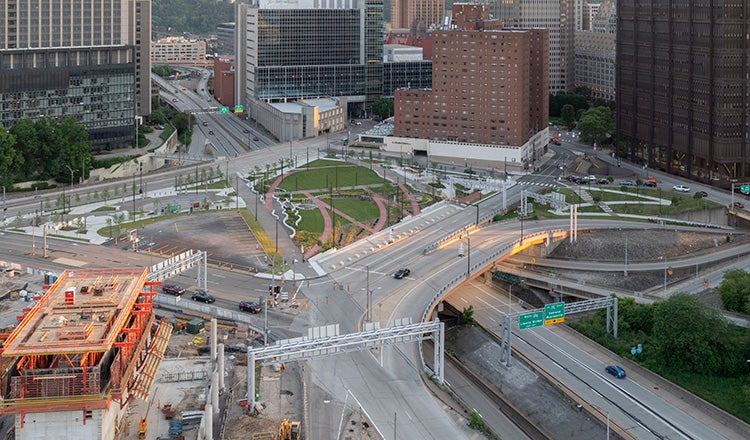 The $30 million I-579 Urban Open Space Cap, which reconnected Pittsburgh's historic Hill District with the city's downtown center, has received new recognition from the American Society of Highway Engineers. The highway cap covers the interstate that previously cut through the community with a new 3-acre park and provides a walkable link for residents and visitors.
HDR senior bridge engineers Roger Eaton and Nick Burdette, joined by Taylor DaCanal and Sebastian Lobo-Guerrero of American Geotechnical & Environmental Services, wrote about the project in the spring 2023 issue of the Scanner. The magazine is ASHE's quarterly publication. The four explained the structural design of the cap and geotechnical considerations on the unusual project.
"The complexity of design for this constrained urban site was exacerbated by the fact that there were no standard design codes for bridges carrying a park," the authors wrote. "HDR developed project-specific criteria to meet the demands associated with the intended use of the park area."
Developing the right foundation design was also critical to the project's success. The team dealt with an area that already included foundations for retaining walls, highway ramps, bridges and buildings. And the geology of uptown Pittsburgh includes multiple layers of weak claystone that needed to be avoided through deep foundation systems.
Read the whole article, "Geotechnical Aspects of Pittsburgh's Urban Open Space Cap Project," in the Spring 2023 issue of the ASHE Scanner.
Completed in 2021, the project has since won numerous industry awards, among them now being named ASHE's 2023 Project of the Year for projects over $20 million.