Article
Prioritize Hydropower Projects for Government Funding
Tips to Guide Successful Federal Incentive Applications 
U.S. hydropower owners considering upgrades or enhancements to their hydropower facilities have an unprecedented opportunity to augment their investments with federal incentive funding. The Infrastructure Investment and Jobs Act dedicates $754 million to hydropower incentive payments targeting increased production, efficiency, grid resiliency, dam safety and sustainability, while the Inflation Reduction Act expands and enhances the tax credits available to owners who add capacity to existing hydropower facilities and non-powered dams or build new pumped-storage facilities.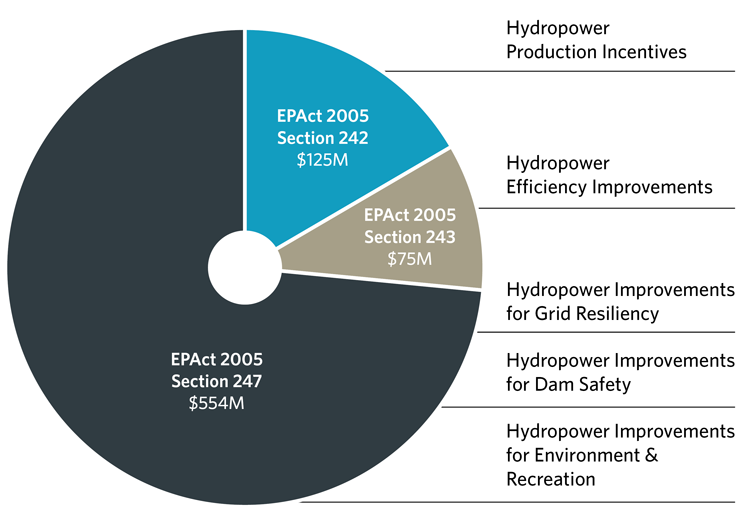 As we ready ourselves across the U.S. to transform federal funding into real progress for hydropower, there's an opportunity plan for the intricacies of successful grant applications. It's an asset to have someone in your corner who's contributed to federal energy and environmental policy, and knows the ins and outs of planning and qualifying for federal grants.  
Senior Hydropower Consultant Brennan Smith has spent decades working to sustain and grow U.S. hydropower assets for the future. At HDR, he leverages experience to help clients bridge policy and priority hydropower projects. He led Oak Ridge National Laboratory's Hydropower Research and Development team for 16 years, managing a $15 million annual budget of merit-reviewed U.S. Department of Energy research projects, and spent 10 years as a water resources engineering specialist at the Tennessee Valley Authority. 
Brennan's experience with the DOE, owners and consultants is a unique connection point. He collaborates with all three interests, working to help clients match funding opportunities with their energy goals and prepare applications that are responsive to the intent and requirements of funding programs. His deep understanding of the nuances of the process improves efficiency and adds clarity to application efforts. In the Q&A below, Brennan shares tips for readying your utility to apply for federal incentives.
Q: The specific program guidelines for federal funding haven't been announced. What should utilities be aware of while considering how federal incentive programs can help achieve hydropower capital plan priorities? 
With a prioritized hydropower capital project list in hand, utilities can begin the process of matching projects with potential funding opportunities. Early consideration of two aspects is likely to streamline the application process when guidelines are announced:   
Application timelines may be brief. Once the guidelines are released, its anticipated deadlines for grant applications may have turnaround times of as little as a couple of months. This puts the onus on utilities to assess assets and prioritize capital plans with an eye on possible funding now, enabling quick interpretation of the guidelines and a streamlined application process. Utilities that opt to wait until the guidelines are released may struggle to submit applications in time for consideration.  
Methods of project grouping will affect funding and project prioritization. When application guidelines are released, utilities can benefit from evaluating the best way to "bucket" projects. Owners may find that the structure of the incentives across categories of efficiency, grid resilience, dam safety and sustainability improvement could create opportunities to re-examine priorities and schedules of capital projects, and plans based on specific funding requirements.  
For instance, projects that were previously infeasible could be made possible by a 30% cost reimbursement from IIJA funding, even elevated in priority or schedule. Individual capital projects could be grouped into multi-phase projects to qualify for IIJA funding or make the application process more streamlined. Other projects may qualify for IIJA funding under more than one category and require comparison of application strategies to enable an owner to select the best approach.  
Running scenarios helps uncover the implications of alternative strategies, enabling owners to consider fully the outcomes and impacts of each strategy. Analysis and visualization of the data involved with each scenario and strategy generates powerful insight. I've been working with some of my colleagues to develop a tool that enables us to quickly run scenarios of different application strategies to help utilities see what's best for them.  
Q: How can utilities develop applications that qualify for and maximize federal funds? 
Most programs have specific statutory requirements that owners, facilities and projects must meet to be eligible for funding, but demonstrating that such requirements are met typically requires some detail about the facility configuration, operational history and physical modifications a capital project would accomplish.  
For example, how is grid reliability defined and discerned? How do you validate an efficiency increase of 3%? Owners and their support teams can anticipate the information needs engendered by these types of questions, begin collecting data not already assembled, and be a step ahead when guidelines roll out. Much of the information may have been gathered when projects were defined, conceptualized and initially vetted, but there may be additional information required by the incentive program to validate improvements to efficiency, grid resiliency, dam safety or sustainability. 
I've worked on multiple projects in which DOE was providing supplementary funds for capital projects to improve hydropower outcomes. Two major examples are sustainability improvements through fish passage and turbine aeration, each of which involves a tradeoff between efficiency improvement and environmental improvement (e.g., increased fish survival and increased water quality). Quantifying and validating fish passage/survival or dissolved oxygen improvement for a hydroelectric unit or an entire multi-unit hydropower facility is complex, whether that analysis is for the owner to justify the project or for DOE to qualify the project to receive an award or grant. Under some conditions, enhanced fish passage or aeration influences turbine and overall facility water use efficiency, which makes the overall determination of improvement and costs even more complex. Establishing these relationships and targets, and assembling the data necessary to analyze them, is important in the project development stage and in applying for federal awards.   
Q: Is funding from the IIJA and IRA expected to be competitive?  
While IIJA funds may not be competitive, and IRA tax incentives are available to all who qualify, applications must be responsive to the requirements and guidance from DOE (for IIJA funds) and the IRS (for IRA tax incentives). There's an art to efficiently and succinctly structuring applications to maximize the outcomes for projects that include federal awards and tax incentives. It's a matter of developing applications backed by justification that proves — in DOE terms — that your projects match criteria for available funds.  
The DOE is still structuring their IIJA program, so intimate knowledge of the DOE's approach and forward projection on the expected organization of the program and assets enables utilities to act quickly when programs are finalized. The incentives may not be competitive, but deadlines will need to be met.