Podcast
Speaking of Design Ep. 11: Prototyping a Therapeutic Environment for Behavioral Health Treatment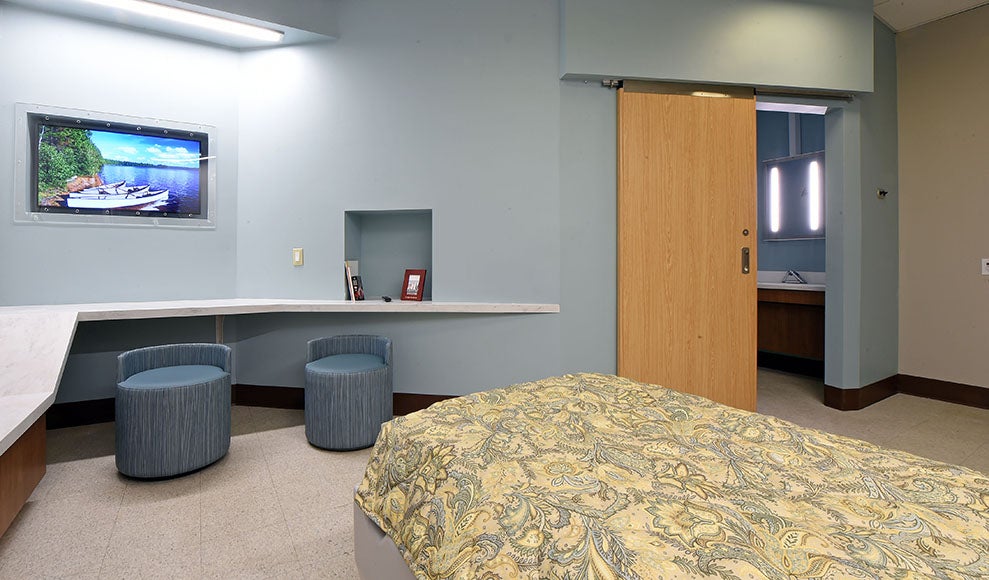 What makes the ideal inpatient room for individuals being treated for behavioral and mental illnesses? In this Speaking of Design podcast episode, we'll meet a team of architects, researchers, and healthcare experts working collaboratively to answer this question. Partnering with the Veterans Affairs New Jersey Healthcare System, the team's prototype of a room designed specifically for behavioral and mental health treatment provided patients and behavioral healthcare staff an opportunity to weigh-in and give feedback. The design research collected will help architects and healthcare providers leverage evidence-based design to create therapeutic environments for both patients and their families.
Subscribe
---
Featured on this Episode
Brian Giebink is an architect and behavioral health planner in HDR's Minneapolis studio. He took an interest in architecture during his childhood, and that passion drives him to create the best spaces and environments to support the relationship between health, wellness and education. "Just knowing that I'm really making a difference in the spaces that I design makes my career and my work very enjoyable. I'm doing the best I can do to benefit others through design," he said. More about Brian
---
Tammy Thompson is the president and founder of the Institute for Patient-Centered Design, a nonprofit organization established to give patients a voice in the design of healthcare environments. The Institute works with healthcare providers, medical staff and design teams to explore innovation ideas in healthcare design. "We are just amazed at how our work really has wings and is able to take off in so many different directions and inspire so many people," she said.
---
Kim McMurray is a principal of Behavioral Health Facility Consulting, where she works with designers and healthcare providers of all sizes to solve the puzzle of designing a safe, therapeutic environment for behavioral and mental health patients and staff. Kim has more than 30 years of leadership experience in healthcare and academic medical campus architecture. She also serves as vice president of design for the Institute for Patient-Centered Design. Kim's personal experience of family members suffering from behavioral and mental illnesses motivate Kim "to wake up every day to be a difference maker in mental health."
---
Jim Hunt is the founder and senior consultant of Behavioral Health Facility Consulting and co-author of the Behavioral Health Design Guide. His 20 years as director of facilities management at the Menninger Clinic give him an in-depth understanding of the day-to-day operations and management of behavioral and mental healthcare facilities.
---
Mary Therese Hankinson is the retired director of the Office of Patient Centered Care and Veteran Experience for the VA New Jersey Health Care System and continues to volunteer for the VA Central Office of Patient Centered Care & Cultural Transformation. During her 14 years as director, the VA New Jersey implemented a number of groundbreaking programs to improve care and quality of life for veterans. Many of their programs followed the model of Planetree — a nonprofit that works with healthcare providers to develop patient-centered programs in a healing environment. She is currently an adjunct professor/internship coordinator in the Master of Healthcare Administration Program at Seton Hall University.
---
Dr. Mardelle Shepley is a professor and chair of the Department of Design and Environmental Analysis at Cornell University. As a healthcare architect and design researcher, she has advanced evidence-based design through six books she has authored/co-authored, including Design for Mental & Behavioral Health, published in 2017. "I try to serve as a conduit between people that are conducting research and people that are in practice so that they can understand one another," she said.
---
Credits: Produced by Danny Sullivan and John Tourek.