Article
Three Design Concepts for Resilient Communities
Each year, World Architecture Day is celebrated on the first Monday of October. The theme for this year's global observance — Architecture for Resilient Communities — urges the industry to reflect on the collective responsibility to design for viable community life, sparking an international discussion on the relationship between urban and rural areas in all countries. 
This ethos manifests in our global practice, with designers consistently creating new and exciting frameworks and concepts from urban to rural scales while advocating for regenerative design strategies in all building typologies. 
Explore three design concepts — Rural Resolve, Ending Global Sprawl, and our Regenerative Design Framework — that we're pioneering at HDR to help design resilient communities.
1. Rural Resolve
Through HDR's Fellowship Program, Fellow recipient and Design Director Tom Trenolone was provided the opportunity to study the crisis rural hospitals face today — increasing facility closures and disinvestment that create gaps in critical emergency transit times, leaving residents without access to medical care in their community. 
Tom and a small team of HDR designers turned to the rural community of Haxtun, Colorado, for their healthcare case study. Engaging with local hospital administration and the economic development agency, the design team explored how design solutions can help address multiple issues of health, wellness and economics for rural communities. 
Integrating mixed-use healthcare facilities into Haxtun's main street was central to their approach. By doing so, Haxtun could generate the population density needed to create a lively town center that fosters economic and social well-being. In alignment with the "if you build it, they will come" mentality, this design solution suggests that when healthcare facilities are in the epicenter of communities, other businesses and recreational amenities will follow due to a higher volume of people frequenting the mixed-use site for work, leisure, or care. 
Tom and his team compiled their research and design concepts in the publication Rural Resolve, which identifies and expands on eight design ideas that, when considered together, demonstrate the power of design to create resilient communities.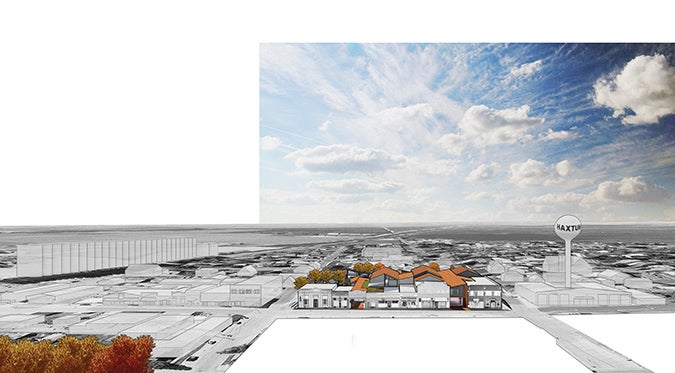 2. Ending Global Sprawl
With 4.2 billion people currently living in cities across the globe — and that number projected to increase to 6.7 billion by 2050 — Urban Design & Planning Principal Peter Calthorpe believes the future of our planet is largely contingent on cities engaging in practices of sustainable growth for urbanism through adaptive reuse and new ways of approaching urban infill. 
Published by the World Bank's Global Platform for Sustainable Cities, Peter's book, Ending Global Sprawl: Urban Standards for Sustainable and Resilient Development, shares seven design principles that help adopt a context-driven, "less is more" approach to urban development that can effectively produce cleaner, safer and more equitable environments. His design principles and concept behind Ending Global Sprawl seek to understand how the various manifestations of sprawl — low-density, high-density and low-income — contribute to social isolation, economic inequality and environmental degradation.
Explore the Seven Principles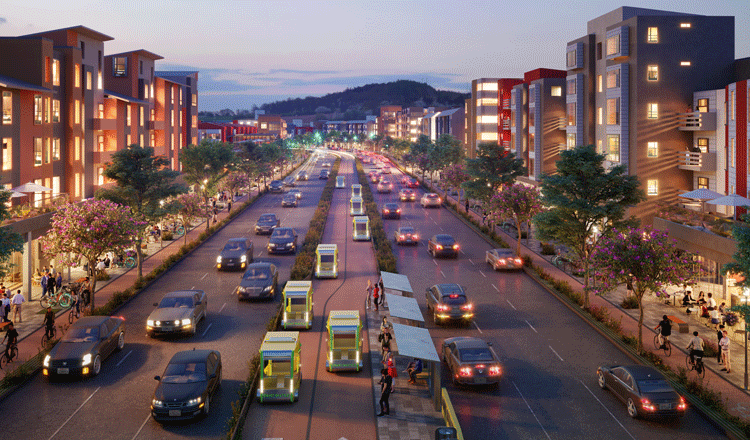 3. Regenerative Design Framework 
According to a recent Intergovernmental Panel on Climate Change Report, we have less than eight years to drastically reduce global carbon emissions to avoid the dire and irreversible impacts of climate change. With the built environment accounting for 39% of global carbon emissions, the architecture industry must radically transform how we approach design — to think beyond the immediate boundaries of our projects to broader interconnected social and ecological systems. 
Our Regenerative Design Framework helps us move beyond high-performance goals toward net-positive impacts with metric-driven targets that consider the project in its broader context —considering how a project can positively contribute rather than negatively impact. The Regenerative Design Framework, our online interactive tool, helps design teams capture and think through regenerative design strategies as part of the design process from day one. The framework creates a way to visualize and measure seven ecological and social key performance indicators — air, carbon, water, nutrients, biodiversity, human health, and community — to ensure the buildings we design positively impact the people using them and the ecology surrounding them. 
Learn More About Regenerative Design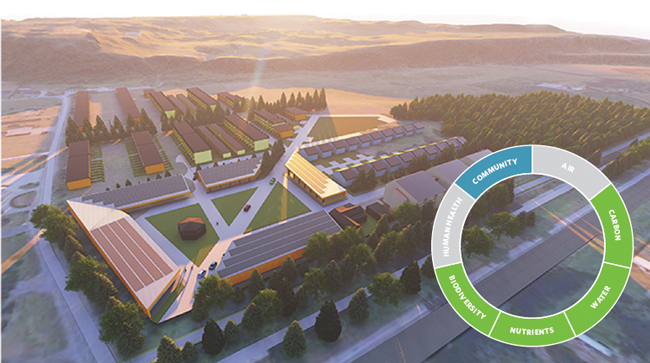 As a global design firm, we're grateful for the opportunity to reflect and share a few ways our design thinking is helping our clients and partners shape resilient communities — now and in the future — this World Architecture Day.