One Water Solutions
Implementing Affordable and Equitable Projects with One Water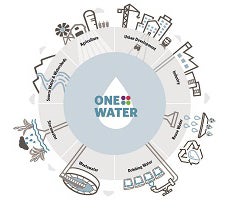 Our One Water approach addresses today's water challenges by exploring the interconnectivity between elements of the hydraulic cycle. Those elements include watersheds, agriculture, urban development, industry, reuse water, drinking water, wastewater and stormwater. We tailor approaches and programs to tie these linkages together into implementable, affordable and equitable projects.
One Water Challenges Require Innovative Thinking
One Water Strategies Create Community Opportunities
One Water Projects Invest in a Resilient Future
Stay in The Know
Stay up-to-date on the latest planning, design trends and innovations in the water industry, including One Water articles and tools.