One Water Solutions: A Holistic Approach to Water Management
Implementing Affordable and Equitable Projects with One Water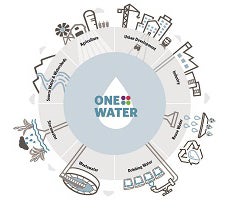 Communities around the world face unprecedented water challenges, demanding a novel approach to thinking about water. 
A "one water" approach offers an exciting opportunity to overcome these challenges and unlock a future of continued affordable and equitable water access.
Our One Water approach connects all elements of the water cycle within our communities. The natural and built linkages between the ways we use and put water back into our environment create unique One Water opportunities. One Water capitalizes on this interconnectedness to develop solutions that offer multiple benefits — exceeding the impact of traditional stand-alone projects — while helping communities meet water quantity, quality, equity and resiliency goals in an efficient, sustainable manner.
Regional and Community Partnerships are Imperative to Making Better Investments in Our Water Future
To address today's challenges and opportunities, multiple sectors and partnerships are needed. The water industry faces an evolving regulatory landscape with a diverse set of challenges that must be met to achieve both current and future compliance. These requirements and their associated efforts range from implementing previous wet weather agreements, upcoming nutrient reduction goals and lead service line elimination to identifying strategies that address emerging contaminants, such as perfluoroalkyl and polyfluoroalkyl substances, or PFAS. Utilities must satisfy these obligations while addressing a host of other important system and community needs, such as aging infrastructure, public health protection, flood control and climate change impacts.
Our One Water Approach and Supporting Services
One Water planning approaches provide avenues to meet all water goals, ranging from regulatory obligations to designing smarter and more resilient solutions, while providing multiple community and environmental benefits. Our One Water approach involves partnering with the community and regional entities that link to the water cycle, applying a lens in which to view an alternative water future, and ensuring the investment in the natural and built environment is equitable and addresses community needs.
Our Communities' Water Needs Have Evolved and We Must Evolve Too
Our One Water approach incorporates four goals essential to meet today's water needs: quantity, quality, equity and resiliency. This holistic approach provides greater access to infrastructure funding and boosts community support to fund much-needed improvements.
These goals reflect the evolution of community water needs, which have traditionally focused on conveying floodwaters, maintaining adequate water supplies, providing safe drinking water and protecting water quality to support recreation and aquatic life. However, these traditional quantity and quality focus areas are becoming more challenging as climate events impact community growth, and agricultural intensification stresses our multi-use water resources and ecosystems. Climate impacts have exposed the need for more resilient water infrastructure, and the water sector recognizes the need to develop regional solutions and become more organizationally resilient. Communities are increasingly focused on providing equitable and affordable services to all residents and mitigating historic infrastructure impacts to under-resourced and vulnerable areas.
One Water Challenges Require Innovative Thinking
One Water Strategies Create Community Opportunities
One Water Projects Invest in a Resilient Future
Stay in The Know
Stay up-to-date on the latest planning, design trends and innovations in the water industry, including One Water articles and tools.