NEWS
Novel Method Again Significantly Removes PFAS From Landfill Leachate
A second pilot study of an HDR-developed novel method to remove perfluoroalkyl and polyfluoroalkyl substances from landfill leachate largely repeated its successful first run, removing up to 95% of some of the most common PFAS. The project, which leveraged a process called froth flotation, was conducted over five days at a large landfill in North Carolina.
The results showed an 85% to 95% removal of common long-chain PFAS, like PFOA (perfluorooctanoic acid) and PFOS (perfluorooctanesulfonic acid), when operating with appropriate conditions, reducing contamination to below drinking water standards adopted by states across the U.S. Long-chain compounds are the most likely PFAS compounds to be monitored and regulated in industrial discharge to publicly operated treatment works, or POTWs, in the future, as water standards continue to evolve across the United States.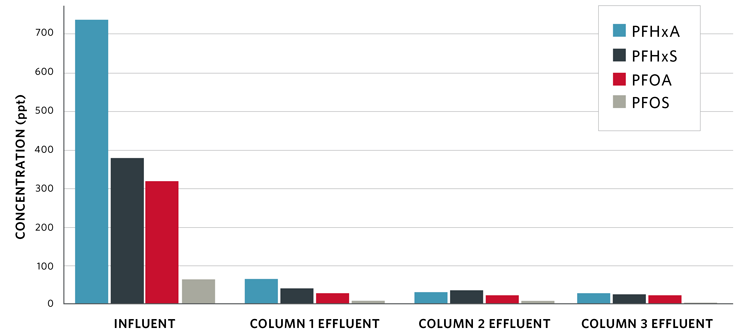 Results also yielded a PFAS residue stream of about 1% of the total volume treated, about five to 20 times less than traditional methods like evaporation or reverse osmosis, meaning significantly less material to further treat or dispose.   
"We were encouraged to see the results of our second pilot study largely mirror those of the first," said Jeff Murray, HDR landfill practice lead. "As we continue to leverage this approach in more studies, and PFAS standards continue to evolve the country, we strongly believe this method has the potential to be a big difference maker for both landfill leachate and other industrial wastewater."
Additional pilot studies are underway to optimize operating conditions, like air and recycle flowrates and froth management, and further understand effectiveness in different landfill settings. In the first pilot study at the Ann Street Landfill in Cumberland County, North Carolina, removal rates of common long-chain PFAS compounds reached up to 99%.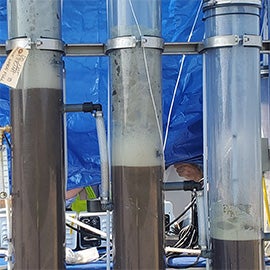 HDR's John Schubert led development of the froth flotation project as a part of HDR's Fellowship Program. He's also leading testing to develop another method to destroy concentrated PFAS compounds after removal, with the goal of creating one of the first full-scale treatment plants to both remove and destroy PFAS in wastewater. These methods could potentially be adopted for other applications in addition to landfills and industrial wastewater, like municipal water treatment plants or water reclamation projects.