Interstate 84 Cloverdale Road Overpass
Interstate 84 Cloverdale Road Overpass
Complete Street Solutions for an Upgraded Bridge Corridor
In June 2018, a tragic seven-vehicle crash on Interstate 84 in Idaho resulted in four deaths just below the Cloverdale Road overpass. A semi-truck involved in the crash was engulfed in flames, which severely damaged the overpass and required the interstate to be closed immediately. The Ada County Highway District and Idaho Transportation Department decided to improve the roadway at the same time as the necessary bridge replacement.
HDR served as the lead designer for delivering plans, specifications and estimate for this accelerated $10.3 million bridge replacement and improvement. During the construction phase, HDR also provided construction engineering and inspection services.
A Fast-Tracked Design Process
Having to act fast to fit an aggressive timeline, our team developed design plans while coordinating the needs of both the county highway district and state transportation department, in a total of 2 ½ months, down from 12-18 months for a typical project of this magnitude. The final plans, specifications and estimate were submitted two days early on Sept. 28, 2018, and came in under the overall budget.
All agencies, utilities and consultants held weekly coordination meetings to discuss issues and make quick decisions. With a fast-tracked project there was no time to rework design, so these meetings proved instrumental in keeping all stakeholders on the same page.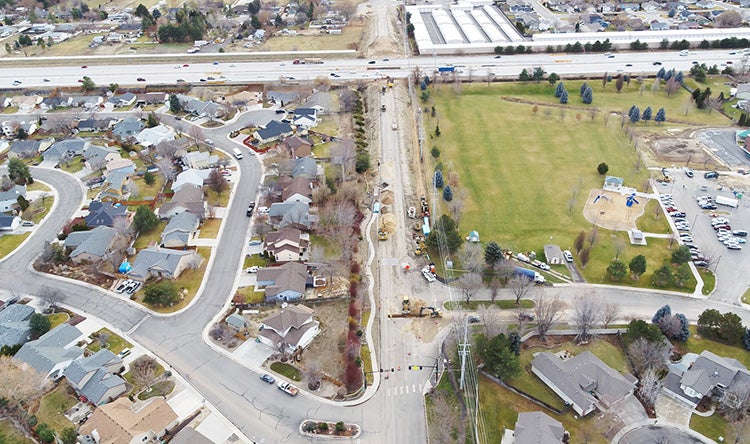 Turning a Rural Road into a Multimodal Urban Corridor
The team designed the project to widen Cloverdale Road from a two-lane rural road to a five-lane urban corridor that ties into the new bridge. It's the first ACHD project to incorporate raised bike lanes, which required uniquely designed ramps and connections to traditional bike lanes. The project also features a 7-foot attached sidewalk on both sides of the roadway; continuous street lighting; ADA-compliant pedestrian ramps; a pedestrian hybrid beacon for a school crossing; mast mounted beacons to replace school zone flashers; a complicated, widened bridge over the Ridenbaugh Canal; relocated irrigation features; and mechanically stabilized earth and gravity walls.
The previous existing sidewalk and bike lanes on Cloverdale Road ended well before the old overpass. The new raised bike lanes and sidewalks provide new, safe passage for these users by separating them from vehicular traffic and making them more visible in crossing Cloverdale Road, encouraging more walking and biking along the corridor.
The Cloverdale overpass reopened to traffic on June 15, 2019, within one year of the tragic crash. The new bridge enhances the community's transportation systems for all modes by reconnecting a vital arterial over I-84 for commuters, freight and residents while creating new connections for bicyclists and pedestrians.