I-91 Rockingham Bridges
I-91 Rockingham Bridges
Twin Structures Designed to Keep Vermont Connected for Next 100 Years
The Vermont Agency of Transportation's I-91 Rockingham Bridges (24N and 24S) provide a vital link for south and central Vermont, but age and heavy traffic took their toll on the twin four-span deck truss bridges. Known locally as the High Bridges, the two were built in the 1960s and were in poor condition. An engineering study determined that the most long-term cost-effective solution was to replace both bridges.
We have been design-build engineer of record on the $50 million project since 2016, responsible for the complete design of two replacement bridges and the associated road work. In addition to bridge and roadway design, HDR led a team responsible for seismic analysis, geotechnical evaluation, hydraulic and scour analysis, environmental permitting, public relations and traffic control. 
A First in Vermont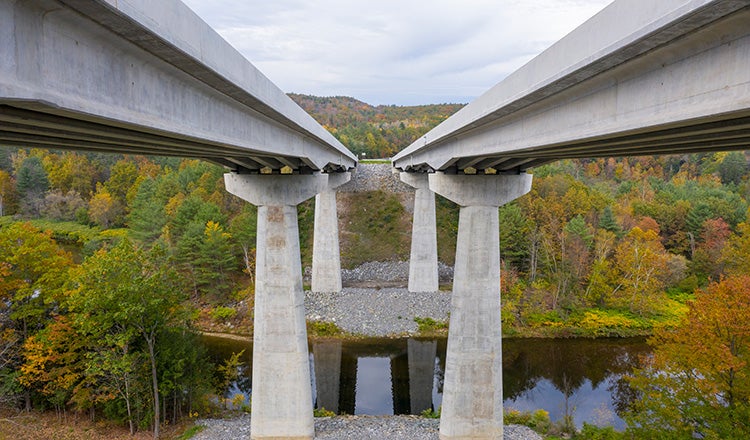 Completed in 2021, the new bridges are a little more than 6 feet wider than the previous and are a four-span spliced precast concrete girder structure — a first in Vermont. 
VTrans had initially prepared a precast concrete balanced cantilever base technical concept, but during the proposal phase, we evaluated all applicable bridge solution types and determined that a haunched, spliced precast girder solution was ultimately the most efficient and cost-effective solution. The use of haunched spliced girders improved constructability, decreased complexity, reduced costs and expedited schedule. 
The new bridges were designed for a 100-year service life, expected to save money on painting and maintenance over the next century. To accomplish this, designers used stainless steel reinforcing in the pier caps and deck, as well as concrete highly resistant to chloride penetration. An analysis of the site's soil was also completed to ensure the piles were large enough to account for 100 years of degradation. 
Each bridge includes piers that vary in height from 70 to 138 feet tall. To accommodate VTrans' stringent requirements for pier slenderness, we used two bearings per girder at each pier. This increased the rotational stiffness at the pier caps. 
Unbalanced and Innovative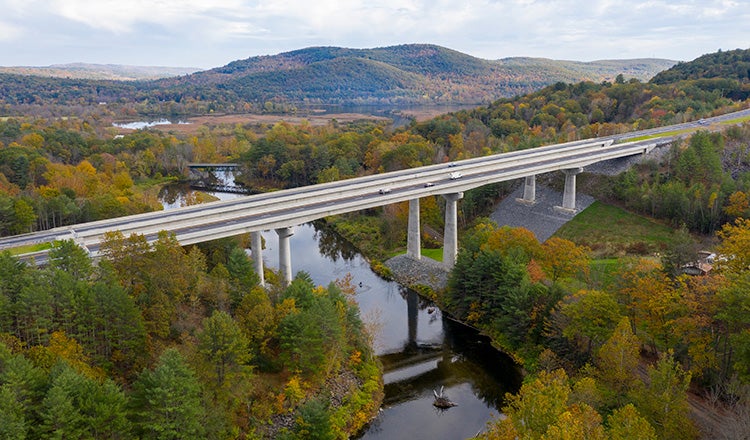 A unique aspect of the bridges' design are their unbalanced spans, ranging from 167 to 245 feet. The unbalanced spans allowed the team to use existing piers as temporary supports during the erection of the structures' haunched girders. The girder installation began in 2018, using precast girders that weighed as much as 93 tons. They were some of the biggest pieces the project's precasters had ever fabricated.
With only two joints on each end of the bridges, the team also developed an innovative concrete landing trough on the abutment face to capture deck water if either of those joints fail. The solution, which filters the water back into the ground, prevents a leaky joint from depositing water into the bridge bearings and deteriorating them prematurely.