Midwest and Southeast Regional Rail Planning Studies
Midwest and Southeast Regional Rail Planning Studies
A Long-Term Vision for Passenger Rail Built on Advanced Regional Modeling and Analysis
In 2011, the Federal Railroad Administration began a national planning effort meant to support the development of conceptual regional rail plans across the United States. As a part of this effort, the FRA began the Midwest and Southeast Regional Rail Planning Studies in 2016 to explore the potential for high-performance, multi-state intercity passenger rail networks in these regions. These plans explore the potential for high-performance rail and create a long-term vision for intercity connections in each region over the next 40 years.
As part of a larger consultant team, HDR served as project manager for the Midwest study and for the second phase of the Southeast study, overseeing efforts for passenger rail planning, ridership and revenue forecasting, and stakeholder outreach. The Southeast study was completed with a final report in 2020 and the Midwest study is scheduled to be completed in 2021.
Passenger Rail Framework Builds on Previous Plans
The Midwest Regional Rail Planning Study builds on current rail planning efforts within the 12 states of Illinois, Missouri, Iowa, Michigan, Wisconsin, Ohio, Nebraska, Kansas, South Dakota, North Dakota, Indiana and Minnesota. It explores the potential for a fully integrated passenger rail network linking communities throughout the region. 
The goal of the study is to provide a framework for a passenger rail network in the Midwest, including identifying priority corridors and priority investment projects, as well as offering guidance on governance structures and funding strategy. When complete, the study will inform and complement existing and future state rail plans and corridor implementation plans.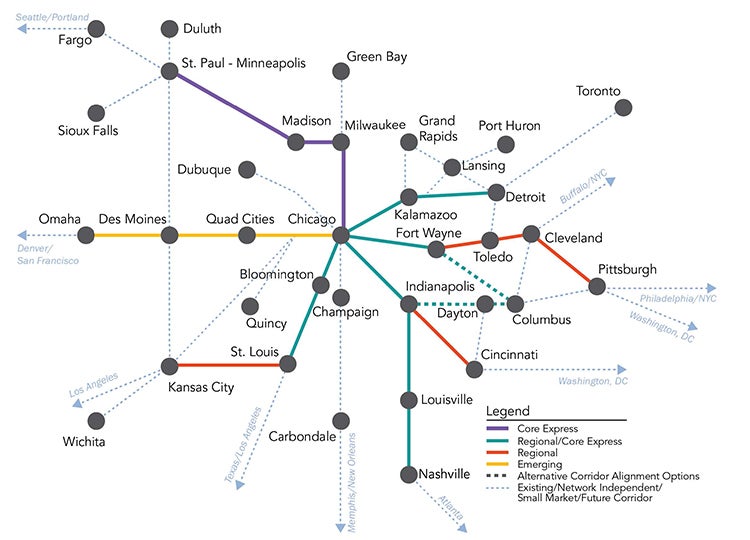 The Southeast Regional Rail Planning Study builds on the already established Southeast High-Speed Rail Corridor between the District of Columbia, Virginia, Florida, Georgia, South Carolina and North Carolina, as well as ongoing state planning efforts and other activities in the region.
Similar to the Midwest study, the Southeast study provides a framework for long-term development of a high-performance passenger rail network. With a planning horizon of 2055, the study focuses on conceptual-level planning for this network, with the goal of facilitating future rail planning and streamlining future project implementation.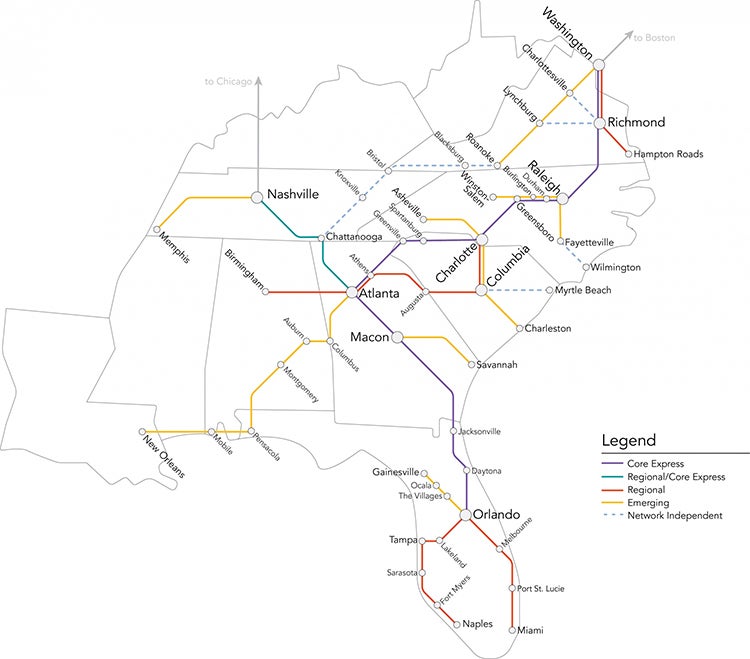 Modeling on a Regional Network Level
Each region's plan was developed based on analysis using the FRA's CONceptual NEtwork Connections Tool, also known as CONNECT, which models existing and future baseline conditions to support a future regional passenger rail network. The modeling assessed ridership, operating and maintenance costs, capital costs, cost-recovery ratios, and other key performance indicators for potential corridors. This resulted in detailed data on route performance, network interactions and potential service levels. It also determined recommended hubs, appropriate service tiers for each corridor and crucial network interactions. This holistic approach produced recommendations for a full network compared to standalone corridors.
The regional focus of these studies differentiates them from most previous efforts, which focused on specific corridors between major cities or on a comprehensive plan within specific states. Focusing on a larger regional level allowed the study participants to better integrate rail planning with other transportation modes, identify priorities that support efficient sequencing within the network and promote consensus among stakeholders.
Both studies incorporated input from respective stakeholder groups through in-person and virtual workshops. These were led by state departments of transportation and regional rail commissions but also included representatives from national railroads, local planning organizations, cities, transit agencies and others. Stakeholders were critical in reviewing analyses on the potential passenger rail markets, corridors, ridership and costs as well as governance and/or institutional options that ultimately fed into each region's final plan.