New York City Central Business District Tolling Program
New York City Central Business District Tolling Program
Program Management Services Support First Congestion Pricing Program in North America
Drivers entering Manhattan's Central Business District have long dealt with traffic that moves at a crawl or not at all. In 2020, New York City was the most congested city in the U.S., according to the Urban Mobility Report published annually by the Texas A&M Transportation Institute. That year, congestion cost drivers in the area nearly 500 million hours in delays.
The Metropolitan Transportation Authority's Triborough Bridge and Tunnel Authority  proposes to address this problem through a congestion tolling system to charge vehicles entering or remaining in the Central Business District. The cordon-based system seeks to manage congestion, improve mobility, improve air quality and raise $15 billion for the region's transit systems. HDR has been involved since the initiative began in spring of 2019, providing program management services, developing the conceptual designs, supporting system procurement, and overseeing design quality and construction.
The system, anticipated to open in 2023, is proposed to assess tolls for vehicles driving into the central business district of Manhattan, 60th street and south, excluding the West Side Highway and FDR Drive. Both E-ZPass and cameras will be used to charge vehicles entering the area, and prices would be variable based on time of day or the amount of congestion currently in the area. The current design has over 100 tolling points, most of which are on urban streets where conventional overhead tolling gantries would be an eye sore. Instead, innovative methods of tolling are being used to blend the infrastructure into the urban landscape.
Tapping Global Tolling Expertise
The tolling plan, currently going through the preliminary design and federal environmental review process, will be the first of its kind in North America. After legislation passed in early 2019 to authorize the tolling system, HDR supported TBTA in developing the concept of operations and initial policies for the program. To do this, our team engaged experts around the world to gather a deep understanding of lessons learned on congestion pricing elsewhere, put boots on the ground to survey over one hundred locations for toll equipment throughout NYC, and led the development of design and performance criteria for systems.
Delivering on Schedule
We led the development of the concept of operations, preliminary design, and developed the procurement documents to on-board a contractor to complete the final design, build, operate and maintain the complex tolling system. The Request for Proposals was completed in three short months and a contractor was selected one month ahead of schedule — an exceptionally aggressive timeline.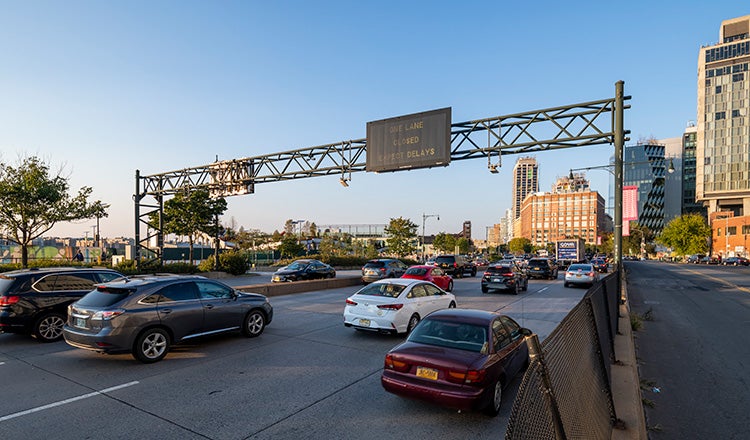 Staying on Track
To accomplish this as program manager, our team maintained the program schedule, built a team of local and international experts within HDR and partner firms, used innovative tools to maintain project records and reviews, and closely monitored budgets. One key tool we developed and maintained was a decision matrix, which logs every key decision that was needed and what decision was made, to ensure all involved are up to date on the latest information and to keep the program on track and moving forward.
Environmental Assessment and Design
The program's next major phase is an Environmental Assessment, governed by the federal National Environmental Policy Act. Input from the communities affected by the proposed system is  considered during this process. Specific public outreach with affected communities is being conducted as part of a robust environmental justice process, to make sure their feedback and comments are considered in the project development process.
Concurrent with the environmental process, preliminary design of the technical components of the system has continued. After completing early concept design, HDR has been performing design quality oversight services of the system and infrastructure design by the selected vendor. This includes review of infrastructure and system designs, and testing and commissioning of the tolling system. We have also been providing construction management and inspection services for the limited field work authorized to date.
Our team also continues to assist in updating and redesigning back office systems, including financial systems to handle the new tolling system and data collection efforts meant to confirm that the system, once operational, is working as intended.
Our team is proud to support our client in the development of this ground-breaking program and to improve mobility in and around Manhattan.