Article
Hydrogen's Place in an Industrial Green Energy Future
IIJA Funding Provides Opportunities for Clean Hydrogen Energy
The industrial sector has a challenging journey toward clean energy simply because of the significant amount of energy it uses. About 78% of the sector's energy consumption in the United States comes from petroleum, natural gas and coal, according to a 2021 report from the U.S. Energy Information Administration. The industrial sector needs support to find green energy alternatives, and hydrogen is emerging as a solution. To help the transition to a green energy economy, the Infrastructure Investment and Jobs Act contains $9.5 billion in funding to research, develop and accelerate hydrogen technology in the United States. Here's what you need to know.
What's in the IIJA for Hydrogen Energy?
Developing Clean Hydrogen Energy Hubs
The largest piece of the IIJA hydrogen investment pie is $8 billion to develop six to 10 large-scale clean hydrogen production and utilization projects across the country. These "H2Hubs" will be one of the largest investments in Department of Energy history and are planned to help develop a clean hydrogen market and supply chain for producers, consumer networks and hydrogen infrastructure.
The hubs will be located in different regions of the United States and have unique focuses depending on local resources and economic markets. There are parameters to their selection for funding. For instance, at least one hub should produce hydrogen from fossil fuel, and at least two hubs should be located in regions with the greatest natural gas resources.
There are at least 24 possible hub proposals under development from across the country, including: 
HALO Hydrogen Hub formed by Louisiana, Oklahoma and Arkansas

Western Inter-States Hydrogen Hub with Colorado, New Mexico, Utah and Wyoming as partners

Midwestern Hydrogen Coalition including Illinois, Indiana, Kentucky, Michigan, Minnesota, Ohio and Wisconsin

Northwest Hydrogen Hub being proposed by Oregon and Washington

Houston Hydrogen Hub proposed by the city of Houston

Northeast Hydrogen Hub including New York, Connecticut, New Jersey, Maine, Rhode Island and Massachusetts
In February 2022, the DOE also launched the H2 Matchmaker map to help clean hydrogen producers, end-users and others find opportunities to develop networks of production, storage and transportation infrastructure. Full applications for H2Hub funding are due to the DOE by April 7, 2023, with DOE selection notifications in fall 2023.
Establishing Clean Hydrogen Electrolysis
Hydrogen is one of the most abundant elements in the universe, but only occurs naturally on earth when it's compounded with other elements like water. Pure hydrogen must be produced before it's used as a fuel. How the hydrogen is produced makes a difference when a color label is assigned and used to describe how "clean" the hydrogen is — green and blue are considered the cleanest.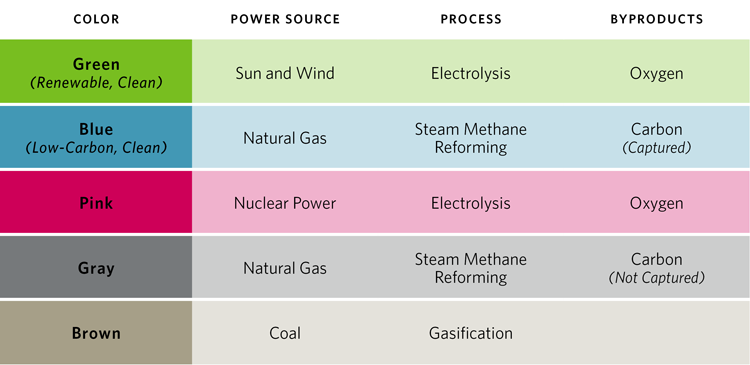 The cleanest way to produce hydrogen is through electrolysis, which uses electricity (from renewable sources to make it green) to split water into hydrogen and oxygen molecules. The IIJA provides $1 billion to establish a research, development, demonstration, commercialization and deployment program to improve the efficiency, increase the durability and reduce the cost of producing clean hydrogen using electrolysis. A request for information went out in February 2022 and an application is expected to open before the end of 2022. Funding will be awarded to eligible entities through competitive grants, contracts and cooperative agreements.
Why the need to research electrolysis? The clean electrolysis process is expensive, costing $4 to $6 per kilogram. Gray hydrogen, which is produced using natural gas with no carbon capture in a process called steam-methane reforming, costs approximately $2.20 per kilogram. The goal of the IIJA program is to reduce the green hydrogen production cost to $2 per kilogram by 2026. Another program — the Hydrogen Shot — which kicked off on June 7, 2021, has a goal to reduce one kilogram of green hydrogen to $1 in one decade.
Expanding Strategies and Production Qualifications
The IIJA also reestablished and expanded the DOE's hydrogen office, which plans to develop the first United States strategy to facilitate a clean hydrogen economy. On Sept. 22, the DOE released a draft called "National Clean Hydrogen Strategy and Roadmap" for public feedback. A final version will be released in the coming months and updated at least every three years.
The IIJA also directs the development of clean hydrogen production qualifications. For each kilogram of "clean" hydrogen made, the IIJA specifies no more than two kilograms of carbon dioxide should be emitted. This definition would come up for review every five years.
Hydrogen's Hurdle to Green Energy
Scaling is a major hurdle for hydrogen's ability to take the lead as a green energy source for the industrial, power and other sectors. In particular, the industrial sector has high energy needs that green hydrogen cannot fully support because of its high cost.
International Efforts
The European Union, which adopted its hydrogen strategy in July 2020 (before the United States), is also working through the challenges of creating these economies of scale. The EU's strategy included 20 action points for hydrogen investment and were implemented by the first quarter of 2022.
Similar to the United States, the EU has organizations to help it drive toward aggressive renewable hydrogen goals, including the Hydrogen Energy Network and European Clean Hydrogen Alliance. Many studies and research initiatives also are underway in the EU to bring down costs and increase the efficiency of hydrogen as a green energy resource. In fact, in the May 2022 REPowerEU Plan, the EU updated its intentions to phase out Europe's dependency on Russian energy imports by increasing its efforts toward a more resilient energy system, which includes hydrogen.
Ammonia Production
Ammonia has emerged as another market opportunity. Once hydrogen is produced, it is combined with hydrogen through a second process to produce ammonia, which can be used as a fuel itself. In addition to being easier and more efficient to transport than hydrogen, it has numerous other benefits compared to hydrogen, including
A higher energy density.

While liquid hydrogen must be stored cryogenically at -253 C, ammonia can be stored at -33 C.

It's still hazardous to handle but less flammable.

Because it's been used agriculturally for a hundred years, ammonia's supply chain is better developed. 
Ammonia is similar to hydrogen in that it has color categories that characterize how the ammonia is produced. Producing the cleanest green ammonia is costly and experimental and is further behind other advances in hydrogen.
That hasn't kept projects from moving forward, though. Several entities are evaluating the potential to develop hydrogen-to-ammonia facilities throughout the United States, then transporting ammonia within the country and abroad. Because of the high production cost of green ammonia, many projects are focusing on blue ammonia which captures the carbon emitted during production. Blue ammonia is especially appealing in the United States where carbon capture and sequestration is more advanced than other countries. Eventually, industry may need to decide if it is more valuable to produce ammonia with hydrogen or burn the hydrogen to make electricity.
Our multidisciplinary resources can help with development of hydrogen and ammonia as clean energy. We have experts with industry knowledge to support concepts or projects already underway. We can support organizations exploring hydrogen-related projects with:
Grant writing

Navigating and securing funding

Advisory services

Program management

Project planning, siting and budgeting

Feasibility and economic studies

Engineering design

Environmental and other permitting

Research studies
Our teams have been researching this emerging energy source. In 2022, our Fellowship Program included a team that collaborated with multiple HDR practices to identify use cases for hydrogen within a variety of industries. The team has since been developing a web-based tool for taking project-specific inputs for various hydrogen applications and producing standard outputs that provide rapid feedback for modeling multiple hydrogen infrastructure solutions.
Contact Jarrett Davis to discuss how we can help with alternative and emerging fuels like hydrogen and ammonia.